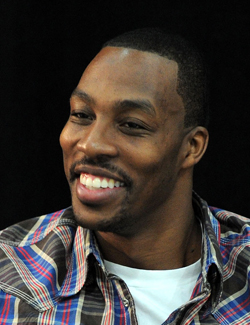 Posted by Royce Young
Big shocking news here people: The New Jersey
Nets
are going to try really hard to get the best player in the 2012 free agency crop to make their team better.
I know, I can't believe it either.
According to ESPN.com
, the Nets "intend to make a hard push for [Dwight] Howard in an attempt to convince [Deron] Williams to commit long term."
Basically, it sounds the like Nets are saying, "Hey everyone, we're going to try real,
real
hard to get
Dwight Howard
. REAL hard. You hear that Deron? Real hard."
It's what they have to do though. Mikhail Prokhorov and the Nets took a strategical risk trading
Derrick Favors
,
Devin Harris
and draft picks for Williams, without the sure road to sign him long term. It's clear that it's going to take a vision for a future contender to convince Williams he wants to be a part of it. Simply playing in Brooklyn in a nice, new arena isn't good enough. Players want to win. And getting Howard is an excellent way to win.
However, Howard seems to be very determined to remain with the
Magic
. But that's only if they do the same thing the Nets are and convince him that they have a plan to win. Howard wants to be a champion. And if that can happen in Orlando, that's what he prefers. But if he decides that isn't in the cards with the existing roster Otis Smith assembles, teaming up with Williams might sound like a fantastic plan.
It's no shock though that the Nets are going to be hot in pursuit of Howard. They better be. He's the cream of the 2012 crop and will instantly make whatever team he picks a title contender. He's a total game-changer. And not only do the Nets want him, they also want to show
Deron Williams
they're serious about getting him help. It's hard for me to picture a scenario of Howard choosing to leaving the Magic in which he doesn't go to the
Lakers
, but the Nets aren't a bad option.
You hear that Deron?