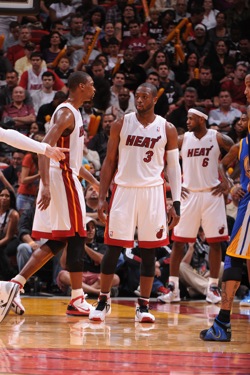 Posted by Royce Young
Some owners are reportedly just fine with losing an entire season of basketball to get a favorable deal. That's not a good thing for players because not only do they miss out on their paychecks, but it also hurts players who had to postpone their free agency and are now a year older.
And think about teams that have superstars players in the final year of their contracts:
Chris Paul
,
Deron Williams
and
Dwight Howard
could all potentially walk from their current teams without ever playing another game for them. And not only that, but because the lockout halts all business, the
Hornets
,
Nets
and
Magic
wouldn't even have an opportunity to pull a Carmelo-ish trade and try and get something in return.
Definitely a little something for those owners to think about, especially when time starts to run out.
But think about how a lockout could affect the league's most visible team.
Via the Miami Herald
:
"If next season goes by the wayside, that means (Heat owner) Micky Arison has only two more seasons guaranteed with the Big 3 under contract. What could happen after that is too scary to even consider right now. Put yourself in Arison's shoes, and you would be walking to the negotiating table right now to make sure a deal gets done in time."
James, Wade and Bosh all gave themselves early termination options after the 2013-14 season. A lost season would definitely make winning not one, not two, not three, et cetera, et cetera, much more difficult.
So that's four teams that have a little different perspective as negotiations continue on. Of course the Hornets are owned by the NBA so that's awkward, but for the Magic, Nets and Heat for sure, there's some incentive in making sure 2011-12 happens. Making money is always the top goal for the owners, but having a winner and/or star players typically helps that.
And watching Howard, Williams or Paul walk without anything in return could damage some bank accounts. Same with Arison and the Heat. That team, while the most polarizing in the league, is also a lightning rod of popularity. Everyone watches the Heat. Arison would be missing not just one extra shot at a title, but another season of consistent sellouts and crazy merchandise sales.
Something to think about, at least.