The National Basketball Association has released new specifics about its financial struggles. Posted by Ben Golliver.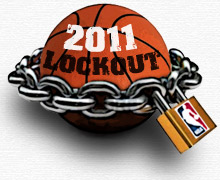 On Tuesday, we noted
a
New York Times
analysis of the National Basketball Association's finances which concluded that data collected by Forbes makes it seem that perhaps the league isn't in as dire a shape as it claims to be.
Later Tuesday,
the Times printed a statement
from the NBA which said the figures used "do not reflect reality" and shed new light on the league's financial struggles.
The statement, attributed to spokesman Tim Frank, said the NBA has incurred "substantial and indisputable losses" and reiterated that the league's books have been shared with the National Basketball Players Association.
Here are a few choice cuts.
The N.B.A. and its teams shared their complete league and team audited financials as well as our state and Federal tax returns with the Players Union. Those financials demonstrate the substantial and indisputable losses the league has incurred over the past several years.

The league lost money every year of the just expiring CBA. During these years, the league has never had positive Net Income, EBITDA or Operating Income.

Ticket revenues have increased 12% over the 10 year period, not the 22% reported.

In 2009-10, 23 teams had net income losses. The losses were in no way "small" as 11 teams lost more than $20M each on a net income basis ... Our net loss for that year, including the gains from the seven profitable teams, was -$340 million.
As of yet, the NBA has not made its books available to independent media analysis. Its claims are therefore unverifiable. There will be skeptics until (if?) that last step is ever completed.
Just because they are unverifiable, however, doesn't necessarily mean they are totally unreliable. What the NBA is admitting too here is pretty striking. Year after year of losses. A plurality of teams losing money. A third of the league's teams losing lots of money. All this despite rising ticket revenues and a solid television deal.
Given all of this new math, solely blaming the players, whose salaries are tied to Basketball-Related Income, simply doesn't add up. Increasing transparency as the league has seems only to only increase the questions the owners should be asking of each other.
Here's three questions for starters. To what degree do they need to protect themselves from themselves when it comes to spending on player salaries? How much does revenue sharing need to increase? How serious are they, really, about a hard cap system? Those are big, hard questions that will eventually require sacrifices and compromises from someone.