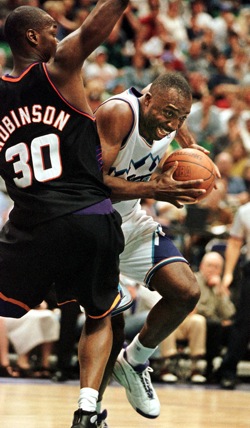 Posted by Royce Young and Ben Golliver.
Armen Gilliam, a former No. 2 overall pick of the Phoenix
Suns
in 1987, died Wednesday. He was 47.
Police say Gilliam collapsed
of a heart attack while playing basketball at LA Fitness in Collier Township, Penn. He was rushed to a nearby hospital where he was declared dead.
Gilliam, nicknamed "The Hammer," starred at UNLV on the 1987 team that won a record 38 games and made it to the Final Four.
Over at CBSSports.com's Eye on College Basketball
, Matt Norlander notes that he leaves a big legacy in Las Vegas.
At Vegas, Gilliam was the seventh-highest scorer in school history. He put up 1,855 points in his three-year career, and scored a still-standing record of 903 points in the Final Four season of 1986-87. The team was 93-11 while he was there. He averaged 17.3 points and 8.3 rebounds as a Runnin' Rebel.


"I'm all shook up," former UNLV coach Jerry Tarkanian told the Las Vegas Sun today. "He was such a great person. He would take the shirt of his back for you."
Besides the Suns, he also played for the Charlotte
Hornets
, Philadelphia
76ers
, New Jersey
Nets
, Milwaukee
Bucks
and Utah
Jazz
. He retired in 2000.
On Wednesday afternoon, Phoenix Suns president Lon Babby issued the following statement.
"On behalf of the entire Phoenix Suns family, I'd like to express our sadness at the news of the passing of Armen Gilliam and offer our condolences to his family. Armen will always have a place in Suns history as only the second No. 2 overall pick for the franchise, but the rugged, tough enforcer known as 'The Hammer' on the court will be remembered by his former teammates and our fans for his easygoing nature off the court."
Gilliam briefly ended his retirement, playing for the Pittsburgh Xplosion (Gilliam is from Pittsburgh), an expansion team in the American Basketball Association, in the 2005-2006 season. He was also the team's coach.
In his 13 NBA seasons, Gilliam, a 6-9 forward, averaged 13.7 points and 6.9 rebounds per game. He was always one of the most powerful, physical players in the league, hence the nickname "The Hammer." He was a strong dunker, and while he never really lived up to his draft position, he had a solid 13-year NBA career.
And finally, a did you know: Gilliam's first name was spelled Armon in college and first few years in the NBA, but he later changed it to Armen.