Minnesota Timberwolves forward Michael Beasley was reportedly busted for pot possession. Posted by Ben Golliver.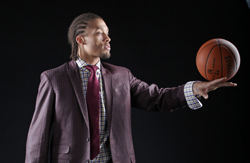 Fool me once, shame on you. Fool me twice, shame on David Kahn.
Multiple reports on Wednesday indicate that Minnesota Timberwolves forward Michael Beasley was recently cited for possession of marijuana.
The Star-Tribune reports
that Beasley was stopped while driving but was not under the influence.
Timberwolves forward Michael Beasley was cited for marijuana possession after being pulled over for speeding in Minnetonka, police said Wednesday.

The traffic stop occurred about 3 a.m. on June 26 on Hwy. 12 near Carlson Parkway, said Capt. Scott Boerboom. Beasley was driving 84 miles per hour in a 65 mph zone, Boerboom said.

Officers who stopped Beasley, 22, smelled marijuana in the car and found slightly more than a half-ounce in the vehicle, Boerboom said.
Kare11.com is also reporting the citation
and notes that Beasley's offenses are "petty misdemeanors which will result in fines."
The Star-Tribune notes on Twitter
that it's "unclear" whether Beasley will be subject to fine or suspension by the NBA, but the citation was handed out prior to the lockout going into effect on July 1.
The citation comes less than two years after another marijuana-related flap involving the No. 2 pick in the 2008 NBA Draft. Beasley
entered rehab in 2009
after posting pictures of himself with marijuana on Twitter.
Kahn
made headlines in July 2010
after trading for Beasley. The Timberwolves president said, ""He's a very young and immature kid who smoked too much marijuana and has told me that he's not smoking anymore, and I told him that I would trust him as long as that was the case."
The NBA fined Kahn
$50,000 for those comments.
It has been assumed that Beasley is a trade piece for the Timberwolves after the organization drafted University of Arizona forward
Derrick Williams
with the No. 2 pick in the 2011 NBA Draft. Beasley and Williams are both score-first combo forwards and it's unlikely there are enough minutes and shots for both players.
The 22 year old forward has been slapped with the "red flag" label since his rehab stint. Another run-in with the police involving marijuana, even a minor one during a lockout, isn't helping his reputation or his trade value.
Beasley averaged 19.2 points and 5.6 rebounds in 32.3 minutes per game last season, his first with the Timberwolves. He was acquired from the Miami
Heat
in a trade that helped clear space for the arrival of free agents
LeBron James
and
Chris Bosh
.