Golden State Warriors guard Stephen Curry says that the NBA might prevent team officials from attending his wedding. Posted by Ben Golliver.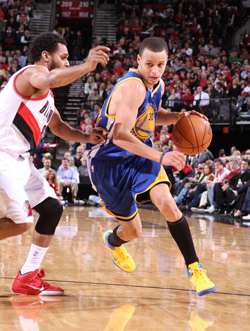 The NBA's lockout is a literal term: players are physically locked out from team facilities and cannot have direct contact with team officials. The league has scrubbed its website and threatened to fine teams that contact players, even through social networking sites.
Apparently, weddings are off-limits too, at least without official clearance from the league office.
Yahoo! Sports reports
that Warriors guard Stephen Curry is about to get hitched and isn't sure whether Golden State employees will be able to attend.
Curry also has some other plans for July: He and his fiancèe, Ayesha Alexander, are getting married in Charlotte at the end of the month. He expects eight Warriors teammates, other NBA players like Rudy Gay, Ronny Turiaf and Corey Maggette and members of former Warriors coach Keith Smart's staff to attend. He's still waiting to see if Warriors' front office officials and Bobcats assistant coach Stephen Silas, a former Golden State assistant, can get cleared by the NBA to go. Miami Heat officials were recently given permission to attend Chris Bosh's wedding.

"They all sent their regards and petitioned the league to come to the wedding, so they're not breaking any rules," Curry said. "As of right now, they can't come. I don't know how the process is going. If they show up, they show up. If not, I understand why."
Poor Curry thought it was bad when he needed to ask the bride's father for his daughter's hand in marriage. Now he needs to turn to NBA commissioner David Stern for a second level of permission.
"Does anyone here object to this union? Speak now or forever hold your peace."
"I do," shouts Stern as he emerges from underneath a pew in the church's fourth row. "Silas just slapped Curry's back and whispered 'congratulations' in his ear. That will be one million dollars! Please make the check payable to Adam Silver."
OK, OK, it's not quite that ridiculous. Given the recent, clear precedent established by the Bosh wedding, Curry's nuptials should come off without a hitch and with the entire invited guest list in attendance.
Still, what a hassle. Requiring that these players and coaches formally request permission without rubberstamping it? Terrible. As if newlyweds didn't have enough to stress about.