Posted by Matt Moore
Mark Cuban made noise after the
Mavericks
won the 2011 NBA championship about not getting rings and doing something "different." That's mostly gone away since it was pretty clear his players wanted to be like all the other champs and not have to wear championship tiaras or anything. But it turns out they will get a different kind of ring at least, in addition to the ones they'll receive whenever the league comes back.
From a press release from Bazooka Candy Brands:
Mr. Cuban, congratulations on winning the NBA Championship! But let's face it, you know it don't mean a thing if you ain't got that ring!
Bazooka Candy Brands, the iconic confectionary company and manufacturer of Ring Pops, believes that the Dallas Mavericks should be rewarded for all their hard work and their NBA finals win. That is why they will be stepping in and saving the day, creating Swarovski-encrusted Ring Pops in the team colors of Blue and White for the team to wear to celebrate their feat. The Ring Pops will be shipped to the team shortly.

No, they are not kidding. Look.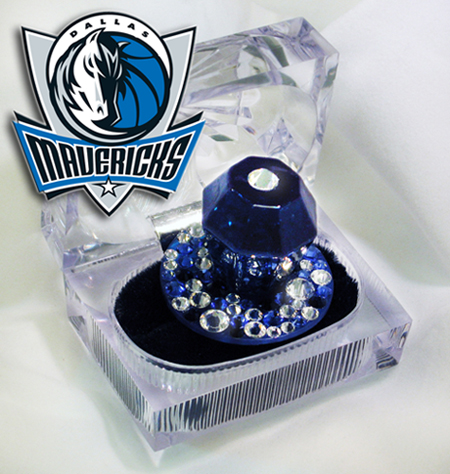 They sent me a sample of the thing. And it looks really cool. The deep blue, the shining silver. It's Mavs-branded very well. It did melt a bit in the sun during transit, but still, looks pretty neat. I keep wanting to eat it, but the (fake, on the sample, I'm assuming) glass crystals are actually embedded in the middle of the thing, and I'm afraid it's going to wind up shredding my insides.

Worth it? Maybe. But I didn't earn that trip to the hospital like Shawn Marion did by playing for the Mavs.

All in all, it's a pretty nice looking piece of candy. Maybe this is the right way for the Mavericks to celebrate their championship, though. Instead of a ring that will grow dusty in a box or a trophy to place in an office at the AAC, the Mavericks should ingest their ring pops over champagne, using the sugary goodness to be converted back into energy for them to consume.

Efficient, kind of strange, very sweet. Much like the Mavs' championship run.