Dallas Mavericks center Tyson Chandler says he is keeping all of his options open in free agency. Posted by Ben Golliver.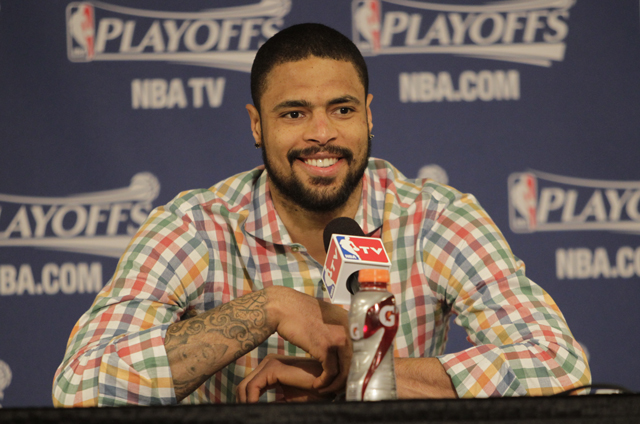 Dallas Mavericks center Tyson Chandler is in line for a big payday. And he seems to understand that better than anyone else.
ESPNDallas.com reports
that Chandler is keeping all his options open publicly, refusing to lean toward a return to the 2011 NBA title-winning Mavericks.
"It's a great point in my career, and I'm coming up under free agency and there's a lot of great teams out there, a lot of great opportunities out there, a lot of up-and-building things," Chandler said Wednesday in a phone interview. "So, I mean, I've got to take a look at all that. I've got to take everything into consideration, and the good thing is I'm on a good side. I'm coming off an incredible year, so it's not a situation where it's worrisome."

"It's going to be a lot that comes into play," Chandler said. "I've got a family, so I want to make sure I put my family in a good situation, where my kids will be comfortable going to school, being able to adjust. That's my No. 1 priority. Being on the court, my surroundings, my teammates, the organization, the history of the organization, our chances, the type of impact I'll make. All that stuff is going to come into play. It's a long list."
Chandler is very shrewd to remain noncommittal. Why? Because all the elements exist for Chandler to receive a sizeable contract, and there's zero risk in alienating Mavericks owner Mark Cuban or Dallas fans, who both understand his value intimately and are highly motivated -- if not desperate -- to ensure that he returns.
Here's a partial list of things Chandler has going in his favor. He is the
No. 3 ranked overall free agent
on the market this year, headlining what is otherwise a weak crop. He plays a high-demand position, and he's shown the ability to defend elite players at that position. He's about to turn 29, so he's still in the prime of his career.
He was durable and reliable in 2010-2011, appearing in 74 games after playing a combined 96 in the two previous seasons because of injuries. He nearly averaged a double-double -- 10.1 points and 9.4 rebounds -- and the Mavericks have no other answer on their roster to replace that production. His skillset -- defense, rebounding, protecting the paint -- is a perfect complement to the team's franchise player, forward
Dirk Nowitzki
, and difficult to obtain on the open market (essentially impossible for the Mavericks to obtain without sacrificing other pieces because they are over the cap). His personality and locker-room presence are highly valued.
Add that all up and Chandler clearly realizes he is in line for a substantial contract from the Mavericks. Those same factors make him valued by bad teams looking to stabilize or playoff contenders looking for a centerpiece to put them over the top. Given Dallas' recent success, the hole that would exist if he left and Cuban's demonstrated ability to spend what it takes to keep things together, by far the most likely outcome here is that Chandler returns to the Mavericks.
But he's smart to play coy and remain patient to ensure that decision comes with the best possible financial reward.