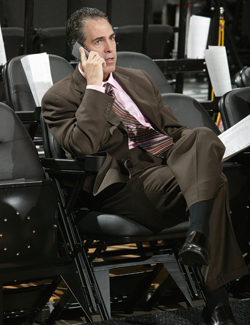 Posted by Matt Moore
Kevin Pritchard has surprisingly been out of pro basketball for a bit. Pritchard, the assistant GM and later general manager of the Blazers' resurgence, was known for his uncanny ability to create beneficial trades that netted good young asset after good young asset.
He was fired in 2010 for, well ... whatever it is Paul Allen fires people for (also known as the Cho Effect). Perhaps Pritchard's most notable mistake was drafting
Greg Oden
over
Kevin Durant
, which wouldn't have been so bad had the Basketball Gods not have it in for Oden. Or at least his knees.
Pritchard didn't pop up in a new position right away, fueling talk that it was his stubborn approach and "arrogant" attitude, as several Portland reports suggested, that talked his way out of a job.
But it would appear his time in purgatory has come to an end.
Mike Wells of the Indianapolis Star reports
that the
Pacers
are "in the process of hiring" Pritchard
to work with
Larry Bird, president of Basketball Operations, and General Manager David Morway.
Yahoo! Sports reports
that his title will be "Director of Player Personnel."
Pritchard has worked with the Pacers in the past, including in the past year. He's very tight with that organization, so this isn't really a shock. It's conceivable with Bird very much on the fence about his future past this season that Pritchard could be putting himself in line to take the reins once Bird retires. Morway would head to the president of Basketball Operations, and Pritchard would then handle GM duties.
It gives the Pacers a more forward-thinking element in the front office compared to Bird's very old school approach. And having someone who can handle the media without looking as if he wants to stab all of them can't hurt either.
In the past 30 days, the Pacers have hired the coach that helped get them to the playoffs and about as impressive a five-game series loss to the top overall seed as you can find, the former assistant coach under Phil Jackson in L.A. and Pritchard. The infrastructure is there. The talent core is there (even if a star is still missing).
Now they just need a season to test the new engine.