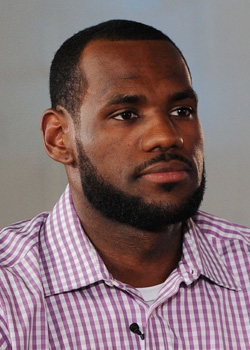 Posted by Matt Moore
LeBron James
walked into a Greenwich, Conn., Boys & Girls Club 365 days ago, sat down in a purple-plaid button-up with Jim Gray (who let that guy into this thing, again?), and said the words so famous. I'm not even going to bother you with a YouTube clip. You know what happened.
In the year since, James has been transformed into some sort of mutated version of himself. He's hated by fans in Chicago, Boston, New York, L.A., and especially Cleveland. He's booed in random arenas. He's filleted by every major columnist, television personality and talk-show host every time he opens his mouth. He's public enemy No. 1, all while he's the most popular jersey in the league, its most recognizable star and, arguably, the game's best player.
So the question should be asked: What exactly did we learn from "The Decision"?
Consider our reaction when the television special was announced:
It doesn't matter where James goes. It's how he announces it. The man is having an hour on the most powerful sports television entity in the world, selling his own advertising, and donating it to charity, only furthering his image. There will be backlash, because that's what happens when you market yourself. It's self-aggrandizement, but you should also recognize that it's proof of the power of controlling your own message, of honing and delivering it on your own terms. More so than going to New York or Chicago or staying home and being the hero, it's the process of his declaration that gives this moment its weight. It's false dramatics, but then, this is sport. We turn athletes into Warriors and games into legends. We're not above this behavior, James is simply harnessing its full power.

LeBron James is on the verge of a decision which will impact the next half-decade in the NBA. He could win multiple titles or walk away empty handed. He could destroy Cleveland or save it. He could resurrect New York, rise in Jordan's shadow, claim Brooklyn as his kingdom, or bring the party to South Beach. But in reality, regardless of his decision, he's making history. He's bringing the power of individual control to a new level, and capitalizing on the full weight of his business potential. For years, he's discussed wanting to be a global icon. It turns out that where he plays may not be the key to accomplishing that. Instead, his method for revealing his decision could be the launching pad towards finally reaching that particular atmosphere.
via
Community - CBSSports.com
.
"The Decision" was supposed to capitalize on a rare opportunity to expand James' brand to global status. For years, there had been talk that James' ultimate goal was to be a "global brand" and not just a basketball player. This seemed to fit right in line with that thinking. Despite the money going to a good cause (a fact which really was overlooked in the whole thing; what's more important, where James played the next few years in basketball or helping kids have better lives?), the move did not come off as empowerment. Or more accurately, it did, and that empowerment offended people.
Athletes are better served by having things "blessed" upon them. Offered an extension from your team despite its decision-making that led to things like, "We should get
Antawn Jamison
not
Amar'e Stoudemire
because we don't want to give up
J.J. Hickson
" and "Ben Wallace will be the difference maker!"? You should be humbled to have been blessed with the offer. It's not just that you shouldn't act as if James did in orchestrating the Decision (or his people did, rather), it's that you should be the opposite.
Kevin Garnett
lost no face in sad-facing his way out of Minnesota, because he did it out of the public eye and when asked about it, never said anything about choosing anything other than Minnesota. James challenged all that, spat in the face of it. And no one liked that. Especially not Cleveland.
If there was one group of people who were right, and continue to be right, in bashing James and keeping the fires of hatred alive, it's Cavs fans. That was either the legitimate reason, or viable excuse, for all the hatred outside of the state of Ohio, the idea that everyone felt bad for Cleveland. This, despite the fact that most big-city, coastal demographics could have cared less about everything in between the coasts, at least as it relates to sports (and in reality in regards to most things) every day up until July 8th of last year, and every day after that didn't involve LeBron James in the discussion. All of a sudden, everyone was heartbroken for Cleveland, without ever really understanding how the trauma was simply part of a bigger picture that crosses all sports, and honestly reflected a lot of the frustration from non-sports factors like politics and the economy. But Cleveland was the rallying cry, the "Remember the Alamo" for hating LeBron James. And it was righteous.
The Decision itself was overdone. That's definitely true. And it was obnoxious. Trust me, I had to cover the thing, responding to every aspect of it. I've had to live with "taking my talents to..." jokes for 365 days and have drowned in the overbearance of both James' process of selection and the subsequent fallout. It was over the top. But there's nothing wrong with being over the top. It's just a little sleazy. It just makes us feel uncomfortable. The questions about a free agent's power to make his own decision about his future? That's a bit more complicated. We like the excitement of player movement, but we're uncomfortable as a society with empowered athletes taking this much control. There are a number of theories why that is. Maybe it's racial. Maybe it's just that it makes sports seem too corporate, too driven by money, as we continue to cling to the idea that you should love to play and love your team. Maybe it's that it comes off as greedy. But for whatever reason, we're not comfortable with that. Throw it into a nationally televised audience in a whole big production and it's an entirely different thing. Then have the player turn his back on his home state, the city he was drafted into, the team that needed him more than any other. That didn't sit right with us. Some called it wrong. It's hard to go that far when you look at the things people do in this society, what athletes notoriously do in their down time most often. James didn't break a law, he didn't hurt anyone beyond making them cry over sports which is a decision they make to become that emotionally invested. He didn't assault, steal from, or morder anyone. But it struck a nerve, and that never sparked a year's worth of hatred that will continue for the forseeable future.
The big result of "The Decision?" James created a new storyline, the modern narrative: Everyone Hates LeBron. There should be no pity here, it's what James created, and not only that, he only pushed it further with each dumb thing he said. For a brief time, from after the Boston series through the end of the Chicago series, it looked like he may have figured out how he needed to conduct his behavior, that he needed to be contrite. But then the struggles resumed in Dallas, and he reacted the same way he has throughout his career when criticized. Not with indifference, humility, or even deft resistance, but with outright defiance, seeming every time like a spoiled child who wouldn't admit it when things didn't go his way. "The Decision" revealed him as a character we could indulge in antipathy towards. It gave a reason, to people outside of Washington or those who disliked him because of their loyalty to another great (Kobe or otherwise), or a team rivalry (Boston or otherwise), to genuinely dislike his character. Maybe we needed it. Maybe it's just the way it is. But the year since has shown us something. There's no going back.
James' brilliance in the Eastern Conference Playoffs, performing in the clutch, taking over games, downing both Boston and Chicago, two of the best teams in the league, did nothing to earn James respect from the masses. Instead, most everyone muttered, looked at their shows, and spit vitriol about how the
Heat
should be that good with that kind of talent, or that it was about time. There's no redemption to be found. The glee in James' failure in the Finals was so nearly visceral that there was almost a parade in every town that wasn't Miami to celebrate him falling on his face. This isn't to say that's wrong. Again, this is what he created, this is the empire he built. It's one that's feared and loathed and hated, but the money is still produced all the same.
"The Decision" changed everything, the NBA, the league's momentum, people's feeling towards LeBron, towards free agency, and players' own sense of their empowerment.
Dwight Howard
will hold the
Magic
captive just as
Carmelo Anthony
held the
Nuggets
captive just as James held the Cavs captive before slaying them on national television. James' brand has never been stronger. More people tune in to watch him and see what he does than ever. It's just that now, it's not out of love. It's out of the interest in watching him fall.
"The Decision" lasted an hour. The famous words just a few seconds. But this show? Even through a lockout and even through a cathartic victory for the people as the
Mavericks
' team concept busted the superteam. Through all that, the show will go on.
There's no going back.