A look at what is at stake for the NBA's Central Division if a whole season was lost due to the lockout. Posted by Ben Golliver.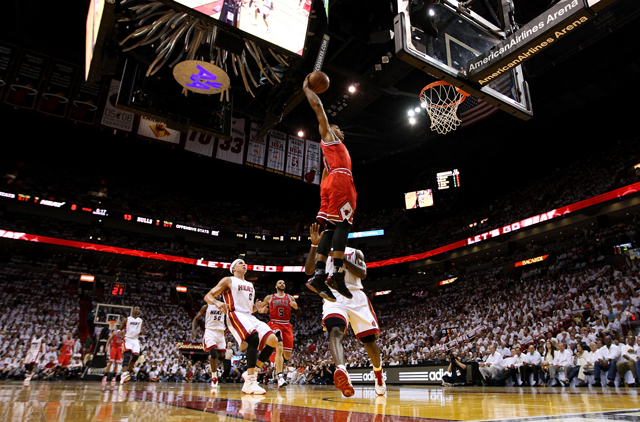 Talk of losing an entire NBA season is a bit ridiculous. But it's a possibility. And with all this hardline talk going on, it seems like neither the players nor the owners are wanting to budge. There's incentive for teams to get a deal done and not just for the money, but because a year without basketball and more importantly, basketball operations, could greatly affect each and every NBA franchise.
Earlier this week, we took a look at the
Southeast Division
and the
Atlantic Division
. Let's continue this series with the Central Division.


CHICAGO Bulls
The Bulls won the Central by a preposterous margin in 2010-2011, stacking up a league-high 62 wins and burying their division mates by a ridiculous 25 games, by far the biggest margin of any division winner. Nothing has happened yet this offseason which suggests next year's results will be any different. Even if the Milwaukee
Bucks
return to full health or the Indiana
Pacers
make a key free agent addition or the Detroit
Pistons
finally emerge from their slog or the Cleveland
Cavaliers
successfully start the
Kyrie Irving
era, the only thing stopping the Bulls from running away from the competition again is an injury to
Derrick Rose
. The Bulls are, by far, the most talented and deepest team in the division. They have the reigning MVP, Coach of the Year and Executive of the Year. They're poised to be championship title contenders for the next five years.
With so much going for them, the Bulls clearly have the most to lose in a lockout. If a season is lost, that's a title chase that evaporates. Perhaps most important, the Bulls would lose that visceral desire for redemption that comes with the ugly end to their season. It was a disappointing, frustrating loss to their new archrivals, the Miami
Heat
, in the Eastern Conference Finals. The pain of that loss subsides with time. It's ability to serve as unifying inspiration will fade too. The Bulls want revenge and they want rings. The pieces are in place. Besides aging teams like the Los Angeles
Lakers
and San Antonio
Spurs
, who face the possibility of their championship window closing, the Bulls don't want to sit around and wait. They created some amazing chemistry last season, built strong trust bonds. Losing a season risks all of that.
INDIANA PACERS
The upstart Pacers are up to something: they finally committed to Frank Vogel as their coach, they brought on former Blazers GM Kevin Pritchard to serve as Director of Player Personnel, they made a solid draft day trade to acquire point guard
George Hill
and they sit on a mound of cap space ready to make a splash in free agency. The Pacers risk two things if a season is lost. First, a critical development year to see how their young pieces are able to gel together. Second, A feeling of certainty in terms of team expectations.
Indiana has assembled some nice, young talent:
Roy Hibbert
,
Darren Collison
,
Paul George
,
Tyler Hansbrough
and Hill are all 25 or younger. Depending on how they use their cap space and whether they decide to move
Danny Granger
, that has all the makings of a promising core that could reliably make playoff runs for the foreseeable future. But the group needs time to spend together, reps to get things right and an evaluation period to see whether all four belong long-term. They look great on paper but more data -- playing together -- is needed. A lost season risks that and potentially stalls the development of those younger guys.
The real risk is free agency. Indiana has just $36 million committed in salary next season, meaning they have one of the smallest payrolls in the league. They also have an expiring contract in
James Posey
to move and potentially could move Granter if they were looking to make a major splash. Their combination of flexibility and talent on-hand is near the tops in the league when it comes to rebuilding teams. A delayed season pushes that promise back and while teams with space are definitely sitting in a better position than teams without space, it's unclear what additional rules might be in place that inhibit free agent movement. If you're the Pacers you'd prefer to be able to chase a guy like
David West
now without any messy collective bargaining negotiations getting in the way. Put simply, the Pacers are a team on the rise, but a lot has to go right for young teams to reach their potential. Even minor things can throw a team off course. The less variables, the better. Unfortunately, the CBA is a major, major variable.
MILWAUKEE BUCKS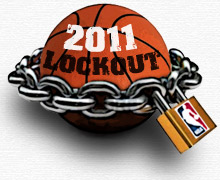 This team is just confusing. The
Stephen Jackson
trade made a bit of sense, given that the Bucks needed a serviceable alternative to
Brandon Jennings
at point guard and got one in
Beno Udrih
, but this group isn't going anywhere meaningful, not even if Jennings and center
Andrew Bogut
are fully healthy.
About the only thing lost in a lockout for the Bucks is another year for Jennings to bloom. His sophomore years was sidetracked by injuries and poor outside shooting, and he questioned his teammates' desire to win at the end of the regular season. Other than Jennings,
Larry Sanders
and
Luc Richard Mbah a Moute
could use more developmental minutes but the rest of the roster is essentially veterans who have reached their potential.
From a cynical standpoint, Bucks ownership could be cheering a lost season because it would mean cash savings on ugly deals for Jackson and big man
Drew Gooden
. Is it worth saving the combined $15 million that will go to Jackson and Gooden in 2011-2012 to lose a year of floor leadership training for Jennings?

DETROIT PISTONS

The Pistons are another confounding mess, but at least it feels like they've turned a corner thanks to the sale of the team, the departure of reviled coach John Kuester and the drafting of point guard
Brandon Knight
and wing
Kyle Singler
. Last year was one, long, ugly grind. 2011-2012 figures to be a step in the right direction.
Knight slipped out of the top five of the 2011 NBA Draft because of questions about his position. Is he a pure point guard? Can he run an NBA offense? Will he be able to execute something besides the pick-and-roll game? His future is incredibly bright but as a one-and-done player he absolutely needs as much playing time as possible to get a feel for the NBA style and to get comfortable with the ball in his hands and a team of professionals that look to him first. There's no other way to learn the point guard position than by on-the-job training, and recent success stories like Rose and
Russell Westbrook
only reinforce that idea. A year away from the game at this stage would be a critical loss for Knight and the Pistons, and that's a major risk.
The same is true, to a lesser degree, for big man
Greg Monroe
, who came on strong in the second half of his rookie season and appears to be a potential core piece going forward. 2011-2012 is all about letting Knight and Monroe build up a chemistry together
A lost season would certainly be welcomed by ownership here too because
Richard Hamilton
,
Ben Gordon
and
Charlie Villanueva
all failed to live up to their big-dollar contract figures last season. Hamilton and Villanueva, in particular, seem like lost causes. Weighing the savings from these deals versus the lost development of Knight, the Pistons should probably be pretty close to indifferent when it comes to losing a season. They need work, they know they need work and the rebuild can only come as these big contracts get closer to their conclusion and become more tradeable. Still, it would seem to be better to continue that journey with Knight getting more familiar and comfortable day-by-day, month-by-month than it would having him workout solo in a gym somewhere. If you've committed to a rebuild, start it immediately.
CLEVELAND CAVALIERS
Last but not least, we have the Cavaliers, the NBA's second-worst team from last season, who endured an embarrasing 26 game losing streak to set an NBA record for consecutive futility. There's significant light at the end of the tunnel for the Cavaliers, as they have an owner committed to spending money to win, the 2011 NBA Draft's No. 1 overall pick, Kyrie Irving, and
Tristan Thompson
, who was taken No. 4 overall.
Cleveland is in much the same position as the Pistons: the biggest risk from losing a season is the lost reps that Irving won't get running the show. There are always some bumps and bruises for a young point guard transitioning from college to the NBA, and the potential for struggles is even more pronounced in Irving's case because he missed much of last season, his freshman year at Duke University, with a foot injury. Time away from the game is not good. The shorter, the better. Irving was clearly the most NBA-ready point guard in this year's draft crop and the Cavaliers would be smart to turn the keys over to him from Day 1, even with veterans
Baron Davis
,
Daniel Gibson
and
Ramon Sessions
on the roster as well.
That raises a secondary risk of the lockout season for the Cavaliers: losing positional clarity. Cleveland clearly needs to move one, if not two, of their point guards to clear the deck for Irving and surround him with some solid complementary pieces. A lost season just delays that process. Saving the money from Davis' contract is tempting, but it's a non-factor for owner Dan Gilbert who would just as soon pay that tax to watch his young team start the rebuild. Along those same lines, an entire season lost could mean the Cavaliers aren't able to move
Antawn Jamison
's $15 million expiring contract, a nice trade asset that could potentially bring a rotation player in return.