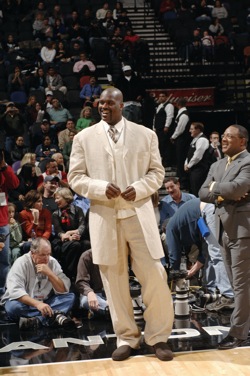 Posted by Royce Young
Pretty much the second Shaquille O'Neal announced his retirement, speculation started as to what his next career venture would be. Of course there's the policeman route, the movie star route, the reality TV star route, the music route or the natural fit, the broadcasting route.

According to Darren Rovell of CNBC
, Shaq's going with the latter, for now. Rovell tweeted, "Sources have confirmed that Shaq has agreed in principle to join Turner."
It really was just a question of where Shaq would go. With his big personality, popularity and knack for being great on camera, it really was going to come down to ESPN or Turner. And with Shaq choosing Turner, that just means the best is only getting better. With Ernie Johnson, Kenny Smith, Charles Barkley and Chris Webber -- who was terrific in his first year as an analyst -- Turner has the market cornered on excellent NBA studio commentary.
Now of course there is a chance that Shaq might not be as wonderful as we're anticipating. TNT's "Inside the NBA" is great for a lot of reasons, but mainly because Barkley is so candid and works well with Kenny and Ernie, being funny but also providing solid basketball analysis. The challenge for Shaq will be to pull off what Barkley does so well in being funny and silly while also being able to get down to talking some serious basketball. I'm not entirely sure Shaq is capable of that.
There's always a fine balance between being yourself and trying too hard to be great on TV. Shaq's funny and smart enough on his own not to have to try hard to be great in a studio setting, so unless he really presses, he should be terrific.
I'm just assuming that Shaq will be part of "Inside the NBA" while he may actually do his own thing. He's certainly capable of it. Shaq has such a big personality that he's must-see-TV all by himself almost. But if he can harness that personality and charm and add in some good basketball talk, "Inside the NBA" will only be better.
Now all that has to happen is there needs to be a season for them to talk about.