Forward Carl Landry says he's considering the Indiana Pacers and Milwaukee Bucks in free agency. Posted by Ben Golliver.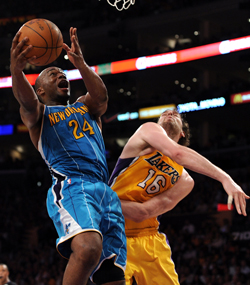 We tend to forget that there are two, not just one, New Orleans
Hornets
power forwards hitting the free agent market this summer.
While former All-Star
David West
checks in at No. 2 overall on the CBSSports.com free agency tracker, the often-overlooked Carl Landry made the top 20. And in a
JCOnline.com article
, Landry lets it be known that he, like West, plans to fully test the free agency waters, whenever the NBA lockout ends.
"I'm sure the lockout will end one day. I just don't know when. A lot of guys are trying to play overseas and make a little extra cash while this lockout is going on, but unfortunately in my case, I'm a free agent, so the smart thing for me is not looking into going overseas.

"Playing in New Orleans is fine. I'm comfortable there. I'm glad to be there. I feel like I was a productive player in their rotation. I brought something to the table every night. I feel wanted there.

"But I would play in Indiana for the Pacers, and I'm from Milwaukee, so I wouldn't mind going back there. You just never know where I will end up."
It's fair to say that the fates of West and Landry are tied pretty closely together. The Hornets have pledged to do pretty much whatever it takes to keep West. If they deliver on that promise and he agrees to run it back with the Hornets, there likely won't be enough money leftover to secure Landry for the long haul as well.
On the flipside, if West decides to walk, New Orleans' back-up plan would seem to be the undersized Landry, who was acquired from the Sacramento
Kings
in a midseason deal. Landry performed solidly in the playoffs, battling the longer, more athletic Los Angeles
Lakers
to put up postseason averages of 16.8 points and 5.0 rebounds. He doesn't have West's overall talent, but he has energy, determination, defensive versatility and good instincts.
The intrigue grows a bit when Landry specifically mentions the Pacers, but that's a team that's often been linked to interest in West, given their large cap space, desire to add a top-level free agent and a hole at the starting four spot. The Pacers could find themselves setttling for Landry if West decides to stay with the Hornets or jumps ship to a more ready-made contender. His motor would fit in well with the developing ethos in Indiana, and he is likely to come at a far cheaper price, potentially allowing Indiana to spend its cap space dollars acquiring another mid-tier free agent.
Landry's numbers took a hit last year from his career season in 2009-2010 after his playing time decreased, but his reputation as a crafty scorer and worker has been established. His best fit might be as a team's first big man off the bench, but there's a good chance someone will pay him to be their starting power forward. Outside of West, the other top available free agent power forwards competing for dollars with Landry include
Glen Davis
,
Kris Humphries
,
Jeff Green
,
Josh McRoberts
and
Kenyon Martin
. Landry stacks up nicely with that group, as each of those players comes with questions. His size will always be a knock, but his toughness and age -- he's 27, ready to enter his prime -- should ensure a solid payday, regardless of which team ends up signing his checks next year.