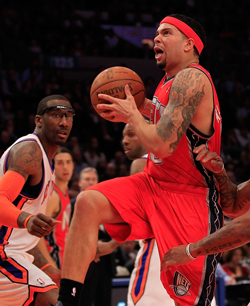 Posted by Royce Young
Deron Williams
, now of the New Jersey
Nets
and
Besiktas in Turkey,
spoke with ESPN.com
about his decision to play overseas if the lockout drags into November or further.
Williams isn't shy about saying he thinks a lot of other players will flock overseas, especially if the owners get what they want.
"If the proposal (the owners) have, if that's what they're sticking with and that's what they want, then I think it would be hard for a lot of guys to come back to the NBA," he said.
Of course Williams will be an unrestricted free agent next summer and acknowledges that a prolonged lockout could greatly affect him re-signing with the Nets.
"I think it will kind of put a damper on things because I want to see where the Nets are going this season," Williams said. "See what kind of additions we can make, because that will definitely help. But I don't know. I still can't really say anything until the new CBA because who knows if I even can opt out? There's no telling."
That, right there, is one of the best bargaining tools the players might be able to use. Mikhail Prokhorov is a powerful negotiator in the labor talks and you can be sure that he wants to protect his new investment. Which means he needs to keep Williams, who he risked a whole lot to go get and build the future of his franchise around. Williams saying that he might just walk away in 2012 has to catch the Nets' attention, even if it's just words.
That's exactly what our Matt Moore saw
as the Nets' big risk in a long lockout too. He wrote:
Mikhail Prokhorov did not get into this business to lose an entire season, the last he has Deron Williams under contract before an extension he hopes to sign him to, and then begin to build a contender under a system which negates every advantage moving his team to Brooklyn provides. But that's the reality that faces the Russian mogul.

Deron Williams is the big key for the Nets. They sent a fortune in the trade for Williams, with the understanding they would convince him of their grand vision and build around him on his next contract. It was a gamble. But they need the 2011-2012 season to convince Williams that the plan works, that the vision is in place, that they can succeed as the team Williams wants to commit to. Without the 11-12 season, Williams will end up entering free agency with his only time as a Net filled with failure. He may wind up with more wins with his team in Turkey than he won with New Jersey.
Depending on what happens with the new CBA, Williams certainly sounds a bit frustrated with what's going on. Almost as if he'd be just fine staying n Turkey if that meant he was going to get paid.
But the Nets could be backed into an awkward corner. Obviously Williams hasn't been sold on the future of the franchise and is approaching the 2011-12 season as an important one. But if there isn't a 2011-12 season, the Nets' investment in Williams could be a wasted one.
Something to think about.