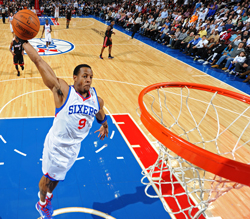 Posted by Royce Young
Andre Iguodala's trade situation in Philadelphia has been "will they, or won't they?" for quite some time. Lately, it has trended more towards "when will they?"
Sixers president Rod Thorn admitted the team has been shopping Iguodala around some and according to about a billion reports, Iguodala has been rumored in trades sending him to Golden State, to Los Angeles, to Orlando or to Atlanta. And that's just the ones that have leaked out.
But Iguodala, a key part of last season's playoff bunch, says he wants to stay in Philly and really thinks he just might.
"I definitely enjoy being here," Iguodala told CSNPhilly.com. "Evan Turner and I were speaking late last night. We had a really good conversation about how we can really play well together, how we can make each other better so we are looking forward to next year. We even talked about what we were going to do after practice next year. So I am definitely looking forward to improving myself and playing ball."
The Sixers are about to turn over to a new ownership group, probably sometime this week. Potentially the new group could have a new vision for the roster (read: looking to cut costs) and could try and deal Iguodala. Still, he's not expecting anything.
"I can't say I would be surprised, because I wouldn't be surprised, but I am not expecting it to happen," he said.
The hook of trading Iguodala is that some cap space is cleared, Evan Turner would have a bit more room to develop and with his value still high, the 76ers would get a nice return. But at the same time, we're talking probably the premier wing defender in the league, a guy that can scored 12-15 points a game, a great teammate, a solid rebounding and passer and someone you made a surprising run to the postseason with as a centerpiece. Do you really want to deal him?
Maybe that's what Iguodala's thinking when he says he doesn't see himself going anywhere. Maybe it just isn't making a ton of sense to him either.