Kentucky Fried Chicken has reportedly offered Miami Heat All-Star guard Dwyane Wade a job during the NBA lockout. Posted by Ben Golliver.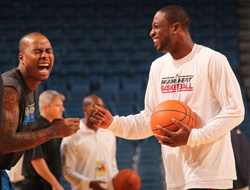 Back on June 30, when the NBA Lockout went from dreaded future event to reality, Miami Heat All-Star guard Dwyane Wade posted some messages on Twitter that he thought were pretty clever.
"Any1 hiring?,"
Wade asked
his 1.4 million followers. "My strengths: work well with others..My weakness: I sometime get fatigue... I'm available for all bar and bat mitzvah and weddings..but my specialty is balloon animals."
TMZ.com
notes that Kentucky Fried Chicken, the fast food chain, replied to Wade's open Twitter question with a formal letter dated July 11 and signed by John Cywinski, General Manager. The letter notes that Wade was an employee of the company prior to joining the NBA and offers to
donate $250,000 to charity
if he agrees to work for the company during the lockout.
Here's an excerpt of the letter.
Dear Dwyane Wade,

We couldn't help but notice your recent tweet about looking for a new line of work in light of the lockout. We're always looking for folks with precisely your qualifications -- initiative, teamwork and the ability to make buckets in a hurry.

We've always been proud to call you a former KFC employee and, it goes without saying we'd love to have you back on our team dishing out the World's Best Chicken, like you dish out assists on the court.

Our offer: Come serve as an honorary captain at a local KFC drive-thru window. And, while we can't match your most recent salary, we'll honor your KFC service by making a donation in your name to Colonel's Scholars, a charity providing young people with much needed college scholarships, if you accept. How's that for a slam dunk?
Those references to basketball were worked into the letter so smoothly, like Wade finishing a fast break.
Blatant publicity stunt or not, Wade pretty much has to do this now. The joke is on him and the charity stuff only makes it that much harder to refuse. The Players Association should find a way to turn this into a "We're still giving back!" marketing campaign and then everyone wins.