Dallas Mavericks owner Mark Cuban writes about his team's 2011 NBA title. Posted by Ben Golliver.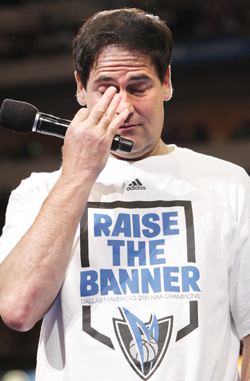 Over the years, we've listened as Dallas Mavericks owner Mark Cuban theorized about technology, bashed the media, questioned the NBA's officiating, exchanged trash talk with opposing coaches and players, promoted his television network and all the rest of it.
He's been a non-stop quote machine, offering bluster and brilliance interchangeably. But during the Mavericks' run to the 2011 NBA title, Cuban clammed up, taking a backseat so that he wouldn't be a distraction to his coaching staff and players.
We saw
plenty of pictures
of him clutching the Larry O'Brien trophy and we
heard him
extol the virtues of Mavericks fans, but we never got a really thorough, personal account of what it meant to win his first NBA title.
That is, until Tuesday, when Cuban wrote a blog post, titled "
Tremendous
," in which he recounts his thoughts and feelings as Dallas defeated the Miami
Heat
in Game 6 of the NBA Finals.
For me, the entire season came down to the last 90 seconds of Game 6. Our clinching game. I can't even begin to tell you all the emotions I experienced in the course of those 90 seconds.

You see, I refused to let myself think we were going to win. I refused to get ahead of the game. Too many times I had seen games get away from our team. Too many times I had seen our team snatch away what the other side thought was a sure win. We had come from way behind to win games in every series in this playoff run. If we could do it to them, they could do it to us. In my mind, if I even began to think that a win was a certainty, I would jinx us.

It wasn't until there were about 90 seconds left in Game 6 that I let myself accept that we were going to be World Champs. In the video below, you can see me screaming. That's me letting out 8 months of stress. That's me releasing every doubt I had. Every dumb*** superstition I had. That's me transitioning from "I know we can, I hope we can" to "We are the Champions" It's me feeling joy for every guy wearing a Mavs uniform and every Mavs fan around the world that had to be feeling just as happy as I was.
Cuban is polarizing. He gets booed and cheered for his involvement and honesty. Here, he is at his best: Direct, honest and emotional, leaving out the snark, spitefulness and pettiness that so often serves as a lightning rod. It's not often that we get such unfettered access to what it's like to win an NBA title from a team's owner. We've watched the joyous celebrations, but it's nice to read about them too.