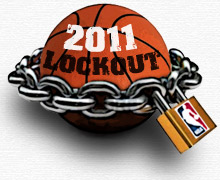 Posted by Matt Moore
Talk of losing an entire NBA season is a bit ridiculous. But it's a possibility. And with all this hardline talk going on, it seems like neither the players nor the owners are wanting to budge. There's incentive for teams to get a deal done and not just for the money, but because a year without basketball and, more importantly, basketball operations, could greatly affect every NBA franchise.
Earlier this week, we took a look at the
Southeast Division
, the
Atlantic Division
, the
Central Division
,
Southwest Division
, and
Northwest Division
. We finish our series with the Pacific Division.
Los Angeles Lakers
The quick answer here is: it depends. A lost season would remove what could be the final year of this Laker core together.
Kobe Bryant
will be 34 in the summer of 2012. Bryant will be able to play until he's 40 thanks to conditioning. But his body is already showing significant wear and tear at age 32. Losing another year of Bryant, along with 30+ players
Lamar Odom
and
Pau Gasol
guarantees the end of meaningful contention, most likely. That doesn't mean it's not possible. It just becomes more difficult.
But on the other hand, if the team's already moving toward the future, making the requisite good faith effort to keep this core together but planning around
Andrew Bynum
(as rumors have suggested), then the lockout doesn't affect things much. The question is whether the team believes the run is over. It probably doesn't, but their actions over the last few months haven't exactly spelled confidence. They haven't indicated an "abandon ship" attitude either. Far from it. But there's enough there for it to be confusing.
Some other good news from a lockout for L.A.?
Matt Barnes
comes off the books, Lamar Odom enters a non-guaranteed year, and
Derek Fisher
,
Luke Walton
and
Steve Blake
enter contract years, so their contracts finally become easily movable. The bad news? Bynum enters a contract year without a fully healthy season in four years. Good times.
Phoenix Suns
The lockout would probably be a good thing for Robert Sarver's organization, based simply on the fact that the Suns' salaries will drop by close to $40 million from 2011-2012 to 2012-2013. (Note:
Vince Carter
and his bought-out contract make up $18 million of that, so it's kind of a fake $40 million. But still!) They lose the last year of
Steve Nash
's contract, which is a bummer. But considering most of us think Nash deserves to be freed from a sinking ship like the Suns, it's not that terrible. Plus the Suns manage to clear off
Mickael Pietrus
and
Aaron Brooks
(assuming they decline to match him in free agency, which they may not, but it's a nice thought) and
Hakim Warrick
and
Robin Lopez
could both enter contract years depending on if the Suns elect to pick up or not pick up various options.
That would leave just
Jared Dudley
,
Channing Frye
and
Josh Childress
as their only long-term contracts. And don't get me wrong, those contracts are horrible. But if the Suns want to rebuild (and they need to rebuild), they'll be in a great position to do so. The Suns are unlikely to improve next season, so there's no big risk in losing next season. Imagine paying no salary for a year plus the money Sarver will make when he sells his 2012 first-rounder! (A joke, and a bad one. Sorry, Suns fans.)
Sarver may actually sabotage the negotiations.
Golden State Warriors
Lacob and Guber spent a pretty penny on this franchise. So you can imagine they'd want to get started early. On the other hand, after spending that much, they need the profit-guaranteeing, value-increasing measures the lockout is geared toward. They're likely to commit to a full-season lockout, especially since it chops off $20 million they'd have to pay
David Lee
and
Andris Biedrins
for what will naturally be a losing season.
And hey, it's taken them two years to figure out what to do with
Monta Ellis
. They could use another twelve months.
But the Warriors still have a lot to fix, and they need to get on it. Time's a wastin'.
L.A. Clippers
The Clippers would see their payroll drop by $20 million dollars if they lost the entire 2011-2012 season. They've already activated
Blake Griffin
's 2012 option, naturally.
Mo Williams
would be entering a contract year, taking the sting out of the money they paid to get rid of
Baron Davis
(now about that draft pick...).
Eric Gordon
would have to get paid, but the fact remains that the Clippers would only have six players on roster, and two of them would be entering expiring deals.
Thanks to their market, the Clippers make a profit no matter what happens, so this wouldn't harm them tremendously. But for a franchise with so much promise, they need to get started. Because otherwise Griffin could enter restricted free agency in 2014 (if restricted free agency exists) with only one year to convince Griffin to work with them on a reasonable extension. Fun stuff.
Sacramento Kings
It's another year for the Maloofs to figure out how to get out of Sacramento. It's a year to take out the full-blown momentum of the fan uprising. But it's also a year that loses all that young talent, and a small-market team like Sacramento can't really survive losing an entire year of revenue. The Maloofs may have to fake a death to cover debts otherwise.
This could get awkward.