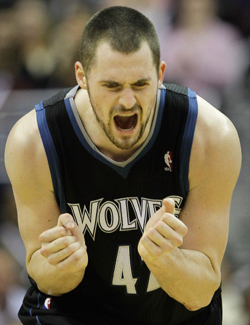 Posted by Matt Moore
Kevin Love
had himself quite the day on Tuesday. Earlier in the afternoon, his team (which has locked him out along with the rest of the NBPA) fired his head coach, Kurt Rambis, the second coach Love has seen go in his three years in the league. His general manager took to the stage and said a number of bizarro things. Then Love attended the
Gatorade Athlete of the Year
banquet for the third time. Had himself quite the day, the first-time All-Star and NBA's Most Improved Player for 2010-2011 did.
Love's one of the more focused guys in terms of his approach to the game, which is part of the reason Gatorade has put him front and center, and you can tell the lockout is grinding on him.
"Basketball's my first love," Love said via telephone interview Tuesday night. "To have an extended summer, I'm not completely mad at it, but at the same time, this is what I do, basketball's my life."
Love made it clear that the players are not oblivious to how the lockout which began on July 1st appears to the public.
"For the fans, with both the NFL and the NBA, not only do they want to see the games on Sundays and Thursday nights for football, but they want to see us. And we know they don't want to see billionaire owners and millionaire players bickering over money."
But since the lockout is out of his control, Love's going to take a look around at other options to pursue that "first love" of his. After
Deron Williams
' suprising exodus-in-wait announcement about playing for Besiktas in Europe, the headlines have been flooded with comments and rumors about players possibly headed overseas next year. I told Love I would be the 9,000th person this week to ask him about his plans for playing overseas, and Love made it clear as most players are: nothing is done yet, but the option is being considered.
"We're definitely checking out our options," Love said. "We're definitely open to hearing from them. I'm going to sit back and wait to see what a lot of the other guys do, but it's definitely intriguing. At the same time, though, I just want the lockout to be settled."
As for Rambis, Love called the firing of the second-year head coach a "tough situation" while also supporting Rambis by saying he expects the former Laker assistant to have another job soon with all his experience. Love also made reference to how the front office approached the situation, a process
Ken Berger of CBSSports.com called "embarassing"
which was echoed by most who cover or operate in the league's coaching circles.
"(Rambis) was put in limbo for a while by our front office. They took their time and weighed all their options. Kurt's going to find another opportunity. He's going to get another job soon."
Love has had an embattled relationship with both Rambis and General Manager David Kahn amid subtle comments from Love questioning the direction of the franchise and both the front office and coaching staff's decision to bury him up until the second month of this season -- at which time Love exploded into an All-Star and the Most Improved Player. He set a record for consecutive double-doubles in a season and had a 30-point, 30-rebound game for the first time since Moses Malone. So, yeah, looks like KLove may have been right about that whole "needing more minutes thing." Tuesday night, though, Love said he was hopeful the relationship with his next coach would be better.
"You always hope for the best," he said. "I want to have a great relationship with whoever coaches the
Timberwolves
or whoever coaches me throughout my career."
So what kind of coach does Love think the Timberwolves need as one of the youngest in the league, but one that David Kahn says is "through rebuilding?"
"As far as us having a young team," Love said, "we're going to need, I won't say a disciplinarian, but a guy who can teach us how to win and has been there and done that."
Good luck with finding a coach with that kind of resume this late in the game. At the same time, not like there's an upcoming training camp to worry about so maybe the Wolves do have some time.
While the Wolves figure out their coaching situation and the league sorts out its lockout, Love said he'll be splitting his time between training in Minnesota and southern California where he was born, raised, went to school, and calls home. He'll be training at his former school -- UCLA -- and said he would "definitely" be playing in the infamous pick-up games on campus. He'll also have plenty of time for his charity events and for nights like Tuesday's
Gatorade High School Athlete of the Year Awards
banquet in Hollywood.
The award is for the top national high school competitors in twelve sports who excel not only on the field but in the classroom and off the field through charity and community service. The award, which has been given since 1985, is selected based on those who "achieve in the classroom and demonstrate strong character." Winners are selected by a panel of nationwide sportswriters and commentators. Love himself won the award in 2007, and has attended the event as a representative for basketball the past two years.
So Love had a pretty good time, since he also said Tuesday night he planned on attending again in 2012.
"Every time you can come back to see the new wave of high school athletes, it's great," Love said via telephone interview Tuesday night. "I was here in 2007 accepting it, and seeing the new winners is so rewarding. I'm looking forward to next year as well."
Hey, at least Love knows one thing that'll be happening next year.