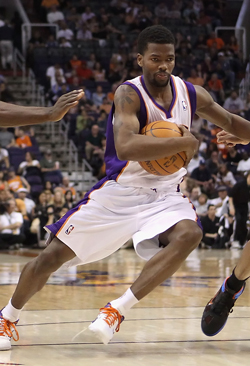 Posted by Royce Young
The last year has been a bit bumpy for guard
Aaron Brooks
. He was named the league's most improved player in 2009-10 with the
Rockets
, but after a number of things got in the way -- including the rise of
Kyle Lowry
-- Brooks was traded to the
Suns
at the deadline last season.
He's a restricted free agent and with the Suns obviously still built around
Steve Nash
, it's reasonable to think Phoenix might not be bullish on re-signing Brooks. But if Brooks has anything to do with it, he'll be back with the Suns.
"All signs point to me going back to Phoenix,"
Brooks told HoopsWorld
. "I had a good time. I like the organization and it's a great city. I would love to continue playing in Phoenix. I would love stay with this team. This summer, I'm going to get more comfortable with the guys. I want to get to know everyone a little bit better and then hopefully we have a better season than we did last year."
If the Suns do re-sign Brooks long-term, it would certainly signal that he's the heir apparent to Nash. But even still, with Nash being 37 and often one that battles nagging injuries throughout a season, Brooks will see his fair share of time anyway. He had his own bothersome ankle injury last season but said it's all healed and not a problem.
"Coming off of an injury-plagued season, I need this time," Brooks said. "It's a blessing and a curse for me. I want to get back to playing, but now I can use all of this extra time to make myself better."
When the deal went down at the deadline,
I certainly saw it as a long-term move for the Suns
. But that only happens if Phoenix commits to Brooks this summer, or whenever free agency starts. The Suns gave up some quality assets to get Brooks and likely don't just want to see him be a half-season player for them, especially when the team wasn't making a push.
Brooks wants to be back in Phoenix and I would assume the Suns have him in mind for the future as well.