Miami Heat All-Star guard Dwyane Wade says his team's NBA Finals loss still "stings." Posted by Ben Golliver.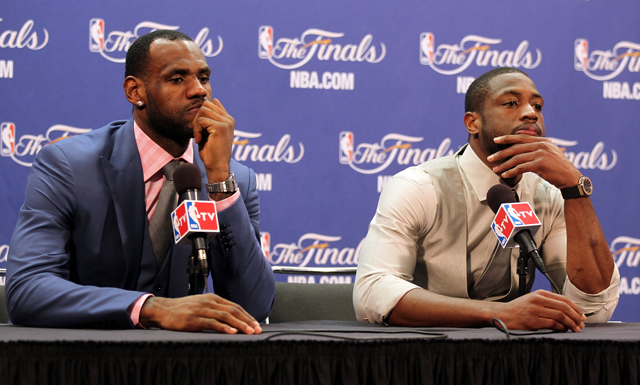 The thrill of victory. The agony of defeat.
On Tuesday, we listened intently
as Dallas
Mavericks
owner Mark Cuban recounted the final moments of his team's 2011 NBA title victory over the Miami Heat.
Now, we get to revel in Miami Heat All-Star guard Dwyane Wade's pain thanks to the
Sun-Sentinel
.
"The sting is always going to be there when you lose," he said. "Obviously, it was my first time ever losing the Finals. The sting is there, no question about it. I joke with the kids. I said, 'All right, I'm going to make jokes about it. You guys are not going to ask me the question.' Because the first thing, when they ask questions, they want to know stuff. I make sure I shed some light on it in a sense-of-humor type of way, but the sting is there.
Wade went so far as to say he has avoided sports television so that he doesn't accidentally stumble upon basketball.
"I haven't watched ESPN in a long time," Wade said Wednesday morning, amid his youth basketball camp at Nova Southeastern University. "Sorry ESPN. I love the network and all. It's still hard to watch basketball. I'm used to basketball coming on any time, I'll have it tuned in."
For those who rolled their eyes when the Heat held their preseason parade and wanted to vomit when Wade and
LeBron James
mocked Mavericks forward
Dirk Nowitzki
, Wade's description of his uncomfortable offseason is music to the ears.
For those expecting even more from the Big 3 in Miami in Year 2, these are welcome quotes too. Wade is already one of the most driven athletes in the league, but pain, properly channeled, can serve as excellent motivation.