Posted by Royce Young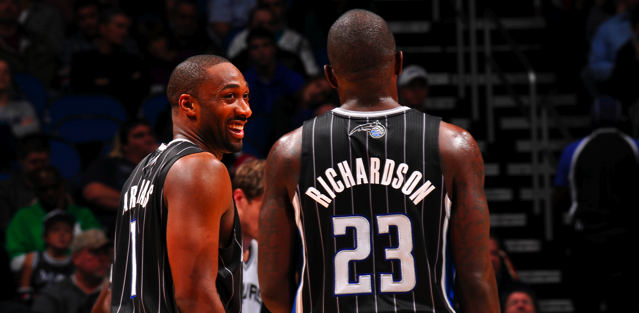 One of the top targets in free agency -- whenever it happens -- for a lot of teams is guard
Jason Richardson
. He's unrestricted and at 30 yeard old, still should have a good number of years left in him.
He finished last season playing for the
Magic
and while he had trouble finding a solid role for the team, he's still going to be a valuable pickup for somebody. He isn't going to land anything near the $14.4 million he made in the final year of his deal, but he recognizes that and is fine with it.
"I want to go to a great place for my family," Richardson told the Saginaw News. "I've been blessed by God to play in the NBA for a lot of money. I'd like to go someplace that has a chance to win a championship.
"I probably have five or six seasons left in the NBA, so I want to go somewhere I can stay."
Hard not to appreciate a player that understands a window might be closing and that money isn't necessarily the most important part to having a fulfilling career. Like Richardson said, he doesn't have a lot of run left in him so going to a rebuilding situation just for money probably doesn't interest him.
So what are his best options? Here are three:
1. Chicago Bulls: The Bulls are definitely in the market for a scoring option next to Derrick Rose. Keith Bogans was a fine defensive stopper and occasional 3-point threat, but as the series against the Heat showed, Rose can't do it all. He needs wing scoring help. He needs not just a shooter to kick to, but a guy that defenses have to worry about. Richardson would fit nicely in between Rose and Luol Deng. The question is, will the Bulls have the space to sign him? And if not, just how serious is Richardson about this not-in-it-for-the-money thing?
2. Orlando Magic: He could just re-sign with Orlando. The hiccup there is that if he signs long-term, the Magic could quickly go from contender to rebuilding depending on what Dwight Howard does. The Magic are built to at least make a push and he fits pretty well in there as a second or third scoring option. He'd have to take a cut in pay and be willing to risk the future a bit depending on other decisions.
3. Dallas Mavericks: Maybe the ideal situation for J-Rich. A lot of this depends on what Dallas does with Caron Butler, J.J. Barea and DeShawn Stevenson, but the Mavs could easily move on from one, two or even all three and bring in Richardson. And even pay him decently. With Butler's injury concerns, the Mavs might be hesitant about bringing him back and Richardson could certainly fit in well to the Maverick starting five. The Mavs don't have the window open for too much longer, but definitely for at least three or four more seasons.