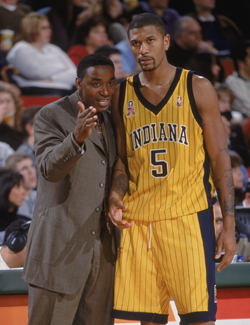 Posted by Matt Moore
Jalen Rose and Isiah Thomas haven't exactly been super-popular this year. Rose made headlines for his comments in the
30 for 30
documentary on the Fab Five about Duke and its players based on his feeling as a teenager on the racial implications for playing there. Isiah Thomas is widely credited with forcing the king's ransom for
Carmelo Anthony
that gutted the
Knicks
current and future, despite denials from James Dolan and Donnie Walsh on his involvement. Oh, yeah, and he's still Isiah Thomas.
But Rose and Thomas are both doing something that's pretty special. Rose, moved by the conditions in inner-city Detroit, has started a school, the Jalen Rose Leadership Academy. It's initial class will host 120 students, chosen by lottery. But Rose is hoping to quadruple that by 2013, he told the AP. To do so, in addition to his golf fundraiser, he reached out to another Detroit staple, Thomas, who donated money to help open the school.
"I think what Jalen is doing is great, so I'm trying to help him get the project off the ground with some of my resources," Thomas said in a telephone interview Tuesday. "The more athletes can re-connect with their communities the better off we'll all be. Some of us do a lot, and some of us don't do enough."
via
Rose inspired by Detroit's plight to open school - USATODAY.com
.
So for two guys who have had pretty bad years with public relations (and this is before Rose's arrest for DUI), this is a tremendous story. Say what you want about each man's words and decisions, but this is an indication that they're willing to try and make a real difference for people who need it.
A nice story while the billionaires and millionaires haggle over billions.