Posted by Ben Golliver.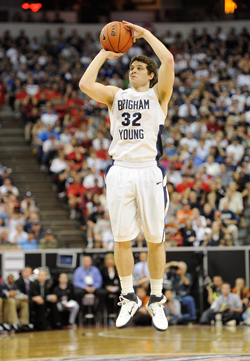 It's not that often college athletes ascend to a level of stardom that allows them to be referred to by one name. For former Florida quarterback Tim Tebow, it happened practically as soon as he stepped on campus. For former BYU guard
Jimmer Fredette
, his star really took off during his senior year, when he led the nation in scoring with 28.9 points per game.
Both Fredette and Tebow are highly marketable, polite, devout men who faced a lot of scrutiny when it came time for them to leave college for the professional level.
Would their games translate?
Would they be able to play the position they played in college?
How would they adjust to no longer being the star?
All the possible comparisons are not lost on Fredette. Speaking after a charity golf tournament in Lake Tahoe, he acknowledged the comparisons in
a video posted to YouTube by the CelebrityGolfNetwork
.
"I think similar just for the fact that we had really successful college careers but a lot of people didn't think we'd do well in the pros. I think we also are both hard workers, guys that have proven people wrong time and time again and continue to work hard, push through it and not really listen to it. Just go out and play as hard as we possibly can. Whatever happens, happens, but I think we have some similarities that way."
Despite the questions, both Tebow and Fredette were selected high by their respective professional teams. Tebow went to the Broncos with the No. 25 pick in the 2010 NFL Draft; Fredette went No. 10 overall to the
Kings
last June.
As of yet, Tebow hasn't shown a ton at the pro level, playing in just nine games for the Broncos, throwing five touchdowns and three interceptions. He started early in his rookie year but finished the year as a back-up. The Broncos went 4-12 in 2010, the first time they had lost that many games in franchise history, and fired their coach midseason.
Fredette is heading into an even more difficult situation. The Kings nearly relocated to Anaheim earlier this year, and they already have a bunch of shoot-first parts in
Tyreke Evans
,
John Salmons
and
DeMarcus Cousins
, have an ownership group that is bleeding money and have been below .500 for the last five seasons.
Perhaps Fredette should spend this golfing weekend picking Tebow's brain.