Posted by Ben Golliver.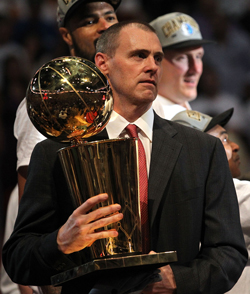 Imagine winning an NBA title and not being able to soak in all the adulation.
That's the predicament facing the Dallas
Mavericks
, who won the 2011 NBA Finals over the Miami
Heat
in June and then promptly saw the league enter a lockout July 1. With the lockout came a gag order and a threatened fine of $1 million on any team employee who mentions current players in public.
Thankfully, Mavericks owner Mark Cuban was
able to get around
the gag order during a recent awards ceremony, in which the NBA pre-cleared him to appear along with his players to accept an award.
Mavericks coach Rick Carlisle, however, may not be so lucky.
During an innocuous interview with 750 AM The Game in Portland,
ESPNDallas.com notes
that Carlisle discussed multiple members of the Portland
Trail Blazers
by name and made reference to a few of his own players as well.
What happened next?
The interview continues with neither party thinking gag-order violation flags were being thrown in New York. And so the conversation meandered on and at about 11 minutes in, as Carlisle is talking about how changes to NBA rules over the last decade have enhanced the game, he finishes a rambling thought by suddenly detouring to, "John, I'm sorry, I've got to run. I've got something I've got to do here."

And that was that.

Carlisle's abrupt exit spawned a new conversation about why he bailed so quickly. Was NBA Big Brother listening?
Here we have another clear violation of the NBA's gag order policy just a few days after Minnesota
Timberwolves
president David Kahn
discussed multiple members
of his team at a press conference that announced the firing of coach Kurt Rambis.
The NBA has yet to issue a true comment publicly and has not yet levied a fine for either violation. A rule -- even a dumb one -- is only as good as its enforcement. The only conclusions we're left to reach are that either the NBA realizes its own rule is overly Draconian and is letting people slide or the hammer has yet to drop. Either way, the silence and delay make the NBA look unorganized and unfocused.
Those are not words you want attached to your negotiating position during a labor negotiation.
As for Carlisle, you feel for the guy. This is unquestionably the pinnacle of his career. If any of us were in his shoes, we'd be doing 10 radio shows a day, soaking in all the congratulations and recounting our favorite moments from the dream ride. Those are the spoils that go to victors. Instead, he could very well have to write a check to the NBA for acknowledging the players who helped him get there. Brutal.