The Miami Heat are reportedly interested in free agent forward Shane Battier. Posted by Ben Golliver.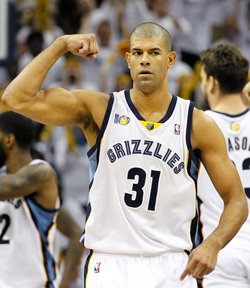 Last week, we noted a Houston Chronicle report
that unrestricted free agent forward Shane Battier, who was traded by the
Rockets
to the Memphis
Grizzlies
before the trade deadline, is interested in hooking on with a contender.
On Sunday,
the Miami Herald reports
that the Miami Heat are interested in Battier, a hard-nosed, veteran perimeter defender.
Regardless of whether James Jones re-signs (and there's mutual interest), we hear forward Shane Battier will be very much on the Heat's radar after the lockout. The Houston Chronicle, after interviewing Battier, said "don't be surprised" if he signs with the Heat or Bulls.
At first glance, this seems like an imperfect match for three reasons. One: The Miami Heat already have
Dwyane Wade
and
LeBron James
playing heavy, heavy minutes on the wing. Two: Forward
Mike Miller
is under contract through 2014-2015. Three: The Heat have big holes to fill at the point guard position and the center position, and they don't have much financial wiggle room to address those issues.
If I'm Heat president Pat Riley or coach Erik Spoelstra, Battier is not my No. 1 target. But he would certainly be near the top of the list when it comes to back-up plans.
Battier is a versatile, intense, tough defender who enjoys playing on that side of the ball. He embodies the culture that Spoelstra has tried to instill in Miami, one in which the offense flows from defensive effort. Battier is super intelligent, known to pour over scouting reports, and he would be a fit with Spoelstra's advanced stat-influenced approach as well. It goes without saying that Battier is unselfish on offense, not needing shots or touches to get his game going. He's a solid rebounder for his position and is a 38.5% three point shooter. All of those attributes fill a need for the Heat, who are building around the ball dominance of Wade and James.
Further, Battier would relieve some of the regular season pressure on either Wade or James, able to defend top-level perimeter scorers for long stretches without help, something no one else on Miami's roster was capable of this year. At 32, Battier should be available on a relatively short year deal at a figure that fits inside Miami's mid-level exception. In other words, he wouldn't necessarily have to be Miami's major offseason signing if he's willing to take a discount to play for the odds-on favorite to win the 2012 NBA Finals.
Adding Battier would require some compromises. The biggest? James would need to be used in an unorthodox manner, either as a point guard in a big lineup or as a power forward with
Chris Bosh
sliding over to center. James showed the ability to play virtually any position last season but is playing him outside his usual position ideal? That's an open question.
Other issues: There's no room for Wade, James, Battier, Miller and Jones. At least one -- probably Jones -- will need to move on. In Miller, the Heat have far more questions than answers. Given his tough injury history and down year this season, it shouldn't come as a surprise if Miami is looking to shore up its depth on the wings.
Ultimately, I would expect the Heat to spend its available money addressing the center position first, if at all possible. Should the top candidates sign for more than the mid-level or elsewhere, there aren't many point guards worthy of a big pay day. And that's where the interest in Battier comes from.