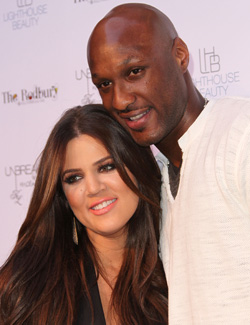 By Matt Moore
Update Tuesday 9:00 a.m.:
Tragically, the 15-year-old pedestrian boy injured in the crash has died from his injuries,
according to TMZ.com
. Odom
posted public condolonces
to the boy's family on Twitter Monday night.
Lamar Odom
had a bit of a rough week last week. TMZ reports that he was in New York for a funeral, and during that visit was a passenger in a car crash that involved a pedestrian and a motorcyclist. From
the New York Post
:
A car carrying Los Angeles Lakers and reality-TV star Lamar Odom crashed into a motorcyclist and pedestrian in Queens last week, a rep told The Post.

A spokesman for Odom's wife, Khloe Kardashian, confirmed that the hoopster was riding in a car service Thursday night in the borough when the accident occurred. Odom grew up in South Jamaica.

"Khloe wasn't in the car. It was a driver, and Lamar was in the back seat,'' Kardashian's publicist, Jill Fritzo, told The Post.
via
Laker Lamar Odom passenger in car that struck biker, kid in Queens - NYPOST.com
.
MediaTakeOut.com also reported the incident as well as reporting the pedestrian and motocyclist were seriously injured in the crash. That's definitely a way to shake someone up, even if Odom was just a passenger in the vehicle. It's terrible that the thought has to cross your mind on if this will be on his reality show (you hope not) but that's the world we live in.
The event follows a tumultous month where rumors ran rampant that Odom had been dangled in trade rumors, including one to Minnesota for the No.2 pick.