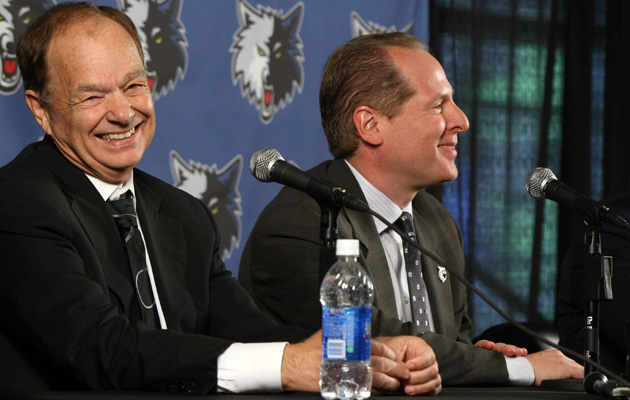 Posted by Matt Moore
So here's a quick question.
Where did the money go? No, I mean, seriously, where did the money go?
The NBA is in the midst of what may end up being its longest lockout in league history. The owners are claiming losses of up to $300 million and attributing it almost entirely to the players (and, apparently, staff as they've become fire-happy). But this isn't the dark days of the late 70's and early 80's, where games are shown on replay late at night and the league is skating a fine line between survival and bankruptcy. The league isn't trying to find its niche. The NBA is one of the largest sports entities in the world.
How about a $7.4
billion
media deal ($930 million a year) extended in 2007? How about
$50 million a year
in revenue from China alone? How about all that money from concessions, sponsorships, ad sales on the floor and in every spot you can find in every arena? How about suite seats, custom lunchboxes, jersey sales, deals with some of the biggest companies in the sports world like Gatorade, Nike, and AutoTrader.com (that last one was a joke). How about NBATV, which exists on most cable packages. How about League Pass Broadband, League Pass Mobile, League Pass Digital Calculator (again, last one, jokey-joke)? How about
BRI being estimated at $3.8 billion
for 2010-2011 alone?
No, for real now, where did all the money go?
Well that gets to the heart of the NBA lockout. The owners believe not only that the players' slice of that revenue pie, the 57 percent of the $3.8 billion (Berger estimates it at $2.17 billion) is what does the damage. From there, it's costs. Costs, costs, costs that pull them under, and all of those costs are things which they feel are not a result of their own decision making, but of all these greedy people wanting too big a cut of what they feel is their pie.
Before my blood gets boiling,
go check out how I feel
about those non-player cuts of those "greedy people."
Here's an interesting question. Reports came out last week from the
New York Times
and
Forbes
about how the NBA had cooked the books. Those reports earned a swift rebuttal from the league regarding their accuracy. Naturally, the
Times was pretty skeptical
about the league's denial of the claims. It should be noted that in the pieces discussing how profit/loss was estimated, one blogger with a financial background took the reports to task independently. I would explain it to you, but my head would explode.
Lost in all the shuffle about how the losses are calculated, what the ticket sales revenue is, or other complex accounting claims which would pretty much bore you to tears, there was one factor which was overlooked by most of the traditional media outlets. The "mystery meat."
Tom Ziller of SBNation.com wrote a piece earlier this month outlining an intriguing element included in the
Forbes
data (which may, or may not be Ziller fashion, the man made a chart so you can process it more easily. Republished with permission here.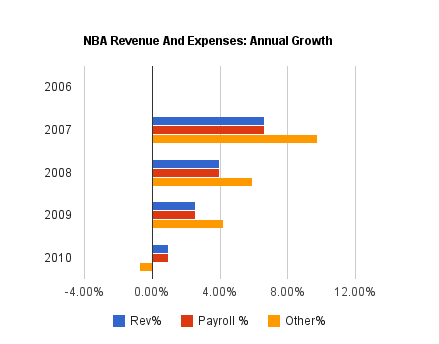 It's that "Other" percentage that has Ziller so up in a huff. From SBNation.com:
In 2007, 2008 and 2009, "other expenses" grew more than revenue or payroll did. From 2006 to 2007, revenue and payroll each grew 6.6 percent. Given the NBA's claimed losses, non-payroll expenses grew 9.8 percent between those seasons. That's a massive uptick in comparison. The gap exists in 2008 and 2009, as well. Strangely -- very strangely -- the 30 NBA teams actually shrunk non-payroll expenses in 2010, despite modest upticks in revenue and payroll. Non-salary expenses had been growing at 4-10 percent over the previous years ... and the NBA cut it by almost 1 percent out of the blue.
via
NBA Lockout: Have Owners Spent Themselves Into This Mess? - SBNation.com
.
Allright, so the question's got to be asked. What's in that
"Other" percentage
? Maybe it was partially those employees the league's been laying off that we've been complaining about. But if so, why did it take them so long to figure it out? And if that kind of problem is so big, shouldn't that be the focus of the league and not the players? Maybe they're unavoidable expenses. But if that's the case, why werent' those factored into the last CBA negotiation? The questions go on and on.
Now, the League's going to say it's irrelevant. They say the data isn't wholly accurate, therefore no conclusions can be gleaned from it. Which is fine. Setting aside the
Times'
point that there's no way to confirm the league's claim that the data is inaccurate without the league releasing its own data (which will happen on a day when Satan has to break out a parka due to a severe temperature drop), the point's still going to be there regardless of how the data is formulated. Where did the money go? How did the NBA make this much, and wind up losing it?
You would think the massive amount of income from the profitable teams would cover it. And you would be wrong for thinking so, so sayeth the league.
From the NBA's statement:
The Knicks, Bulls and Lakers combined net income for 2009-10 does not cover the losses of the 23 unprofitable teams. Our net loss for that year, including the gains from the seven profitable teams, was -$340 million.
via
NBA responds to NYTimes.com blog based on inaccurate info | NBA.com
.
So despite a system that allows big market teams to set their own prices, including what can only be considered an obscene new deal for the Los Angeles Lakers, your costs are still so high that you can't make a profit despite all that?
The league responds, "Of course not! Player salaries are too high!"
As if it were that simple. As if that accounts for why there isn't enough to go around, or why we still saw opulance this season and every season. Are we really to believe that the owners made every decision in good conscience and the system simply wouldn't allow them to profit? That they designed a system that denies their ability to profit?
If we're going to take the stance that failing teams get to fail (as the current revenue sharing system allows), shouldn't we take the same ideals for the league's approach before we start backing their demands to simply be gifted what they want?
These are the questions you ask as the lockout only really gets started, that leave you perplexed about why we're here in the first place. And if we want to get to the bottom of those questions, there's only one way out. for the league to reveal its financials. They're under no obligation to do so. They have every right to keep their data to themselves as private businesses, and to simply keep swatting at these reports that pop up like gnats. But if they really want to tell us that they
deserve the support of the media and fans
, they need to be open and honest about what's happening and why.
Otherwise we're just watching kids get sick in the cafeteria, munching on mystery meat and blaming the salad.