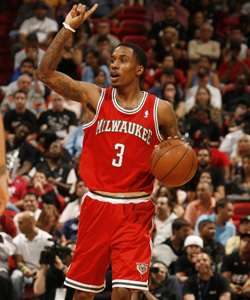 Posted by Matt Moore
Remember when
Brandon Jennings
was neck and neck with
Tyreke Evans
and
Stephen Curry
for Rookie of the Year? Those were good times.
Remember when Jennings suffered a foot injury and wound up missing a bunch of games and showed no real improvement? Yeah, that was sad. Especially for
Bucks
fans.
The good news is that Jennings is dedicated to improving significantly from his disappointing 2010-2011 season. He told the
Milwaukee Journal-Sentinel
that he's focusing on his basics and working out harder than he has since he was 18. This is not saying much since Jennings is only 21, but still. From the
Journal-Sentinel
:
"I'm just getting back to the basics of basketball," said Jennings, who worked out regularly at the team's training facility before the NBA lockout was imposed July 1. "Just working on my fundamentals. Getting set back last year with the injury made me have a different approach to the game. It's not (taken for) granted.

"Next year will be my third year and I need to establish myself as one of the best point guards and one of the best players in the game. It's just trying to get better and better every day. Working with Scott Skiles (before the lockout), getting in the weight room, dedicating the summer to strictly basketball. It's going to be my third year, so it's time to become an all-star."
via
Jennings goes back to fundamentals - JSOnline
.
All-Star, huh? Those are big words from Jennings, and not just because he'll need to make huge strides in multiple areas to improve to that level. He's also facing the most stacked position in basketball. League MVP
Derrick Rose
and
Rajon Rondo
both play in his conference, as does rising star
John Wall
. Jennings has a ways to go to get to that level. But he's working. He also said that he's working on dribbling and finishing with his right, which sounds simple, until you realize it's one of the things
Tony Parker
worked for years on.
But if Jennings is making upgrades to his game, he needs to try out his shot selection. Jenning shot just 39 percent from the field last season and 32 percent from three-point range. His true shooting percentage (factoring three-point shooting and free throws)
was one of the worst among point guards
(though still better than
Baron Davis
),
even though he was 12th overall
in usage among point guards. Jennings has to learn to ease back on the trigger finger and let the game come to him. If he can make the Bucks' overall offense better, that might be an All-Star worthy performance.
(HT:
SLAM
)