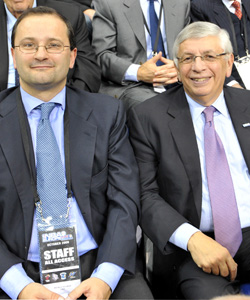 By Matt Moore
Update:
SBNation.com reports
that the meeting has been scheduled for months and is only to discuss the 2014 World Championships, not to cover anything specifically related to the lockout. Great, David Stern gets to know what it's like to have a conversation where you can't talk abou the elephant in the room for once.
Original report:
Deron Williams
is headed to Istanbul
. Every NBA player on the planet has mentioned considering going abroad to play. But the question is, can they?
Well, the answer is, "yes of course." There's nothing to stop a team from signing a player for their individual league or exhibition play. However, when those teams enter into international competitions such as EuroLeague or EuroCup, that's when FIBA gets involved. FIBA is the governing body for determining the eligibility of players for those international competitions and as such, they have a huge say on whether NBA players can play overseas during the lockout. FIBA has yet to rule on the matter, but HoopsWorld reports that the head of FIBA, Patrick Baumann, will meet with David Stern this week to discuss the issues. The ramifications could be astounding.
Baumann is expected to meet with NBA commissioner David Stern this week in hopes of crafting guidance for its member teams and federations on how to handle not only NBA players seeking jobs abroad, but also how to deal with the insurance issues that are surfacing with regards to national teams and the upcoming Olympic qualifiers.

Under a long standing agreement between the NBA and FIBA, the NBA covers one-third of the insurance costs associated with NBA players playing in national team competitions and tournaments. Another third is covered by the national team and the final third is covered by FIBA.

Since the NBA's self-imposed lockout on July 1st, the NBA is no longer willing to cover those costs.
via
NBA AM: FIBA To Meet With NBA - Basketball News & NBA Rumors -
.
Now before we go too far down the conspiracy lane, keep in mind that the league has repeatedly said it will not do anything to prohibit players from playing in Europe. There's good reason. Locking out the players to prevent them from earning a living and then doing anything to threaten their ability to earn a wage elsewhere goes against that whole "life, liberty and the pursuit of happiness" gig that we're so big on here in the states and opens up the league to a lawsuit.
But the conversation is significant. Insurance is a huge concern for the players, though the stars can easily get insured thanks to their status. But if FIBA were to rule against the players' eligibility after meeting with Stern, it would immediately quash the players' hopes of going overseas (teams wouldn't want them if they were unavailable for those competitions in most cases) and create more anomosity between the league and the players, even if Stern himself had nothing to do with the decision.
It's a delicate meeting, is what I'm trying to get at.