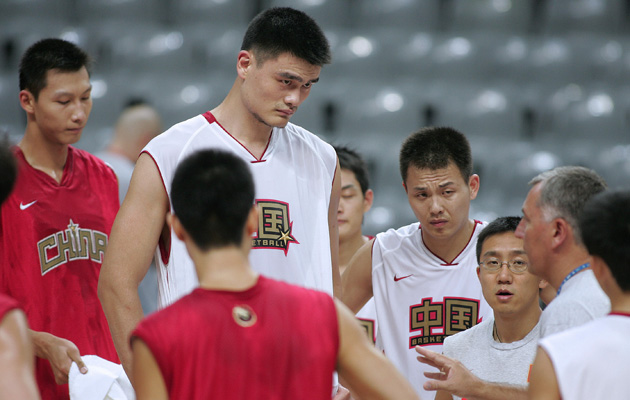 By Matt Moore

Yao Ming
is set to retire from basketball on Wednesday, closing the most successful chapter in Chinese basketball history. But with the population still very much in search of basketball glory, the nation's basketball program organizers are setting the stage for the future of the sport in China.
The
New York Times
reports Tuesday on the state of basketball in the world's most populous nation, and an interesting opinion from one of the top figures in their national program: the goal should be to "play small" with their program, not try and find the next Yao.
"We can either choose to blame the gods and whine about our misfortune or we can step up to the plate and train the next generation of basketball talent," Zhang Weiping, a basketball commentator and former national team member, wrote in an editorial last week.

China, Zhang wrote in Basketball Pioneers magazine, must develop smaller, faster and more skilled players like the ones who thrive in the West.

"China has no shortage of this kind of talent," he said. "We simply have coaching and systemic problems that prevent us from discovering and developing these players."
via
Yao's Retirement Forces China to Rethink Basketball System - NYTimes.com
.
The idea's pretty obvious, right? There's not a whole lot of 7-6 people walking around anywhere. But the plan is much smarter than that. The NBA has adapted to smaller and faster players.
Derrick Rose
,
Rajon Rondo
,
Chris Paul
and
John Wall
are all superstars but are all also point guards.
It would be one thing to just try to capitalize on the tallest players available in the nation, but that strategy puts too much pressure on those players who enter the program. Instead, trying to find a solution which incorporates the strength of the national program with a wider range of individuals is a better solution. The problem, of course, is finding talent in the country's huge population. That means more development of programs.
The NBA recently shut down its offices in Paris and Tokyo, but has wisely kept a presence in China. The NBA could flourish with a symbiotic relationship with China, and commissioner David Stern knows this. Of course, first they've got to get their own ducks in a row before they start helping China to improve its talent development.