Miami Heat All-Star guard Dwyane Wade has filed a lawsuit against computer hackers. Posted by Ben Golliver.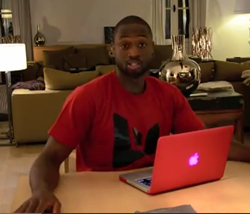 Phone hacking, voicemail hacking, computer hacking. Unlawfully accessing another person's private communication has become the single story dominating headlines internationally.
The Dallas Business Journal reports
that Miami Heat All-Star guard Dwyane Wade has found himself caught up with hackers too, and he's fighting back in court.
Miami Heat star Dwyane Wade claims in a lawsuit filed Friday in federal court in Sherman that somebody is hacking into his personal email and social media accounts and stealing confidential business and personal information.
The hackers, who aren't named in the complaint, got into Wade's Yahoo! and Twitter accounts, according to the complaint filed in the U.S. District Court for the Eastern District of Texas.

The hacking happened between Jan. 2007 and June 2011, and involved modifying account settings and changing account passwords, according to the suit. The hackers reviewed years worth of confidential and private information, including documents between Wade and his attorneys, communications between Wade and his ex-wife, business associates, advisers, family and friends, the complaint states. The hackers also sent sometimes vulgar and threatening emails purporting to be from Wade and used Wade's likeness to request private documents, the complaint says.
What a nightmare. A violation of privacy like this, especially one as allegedly malicious and widespread as what Wade dealt with, would be cause for frustration and anger for just about anyone.
Back in June, Wade recorded a video "Message for the Hackers" which was
uploaded to YouTube by user BSORobertLittal11
. In the video, Wade makes some light-hearted threats to the person who hacked his Twitter account, which has more than 1.4 million followers.
"I got a PSA announcement for my Twitter hacker," Wade said to the camera. "Hi, I'm Dwyane Wade. And this is me talking about you. Why are you hacking me? No pun intended, why are you hacking me? I must be interesting to you ... Yo, I'm going to get straight-faced on you right now. Really. Really. If I see you on the street this is how I'll be. Really. Really! You're going to hack my Twitter?"
"You don't know where I am," Wade continued. "Don't get these T-Mobile commercials confused. Straight-face. T-Mobile phone on my waist. In shape. You want to go night night! Keep hacking my stuff and you'll go night night. Go to sleep."
The only question now is whether there will be any pie throwing at the trial.
Top photo via YouTube video.