Shaquille O'Neal makes fun of Miami Heat forward Chris Bosh. Posted by Ben Golliver.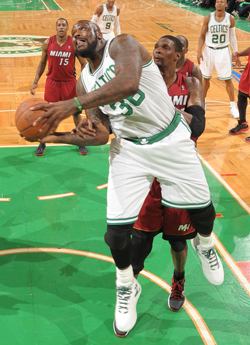 Shaquille O'Neal is getting his television commentary career off to a fast start, wasting no time hopping aboard the Chris Bosh Punchline bandwagon.
The Associated Press reports
that O'Neal took a swipe at the oft-lambasted Heat forward during a televised special announcing the release of the
2011-2012 NBA schedule
.
"The Miami Heat, they've got a lot of great players, the 'Big 2.' They will be back," O'Neal said from Louisiana during the broadcast, when discussing the NBA Finals and how Dallas was able to beat Miami for the title. "LeBron James is taking a lot of criticism, but I know LeBron very well. He hears everything that everyone is saying, so I think he's going to come back and have an MVP year this year."

"Dwyane Wade, LeBron James, you know, they're great players, they're probably the greatest backcourt ever assembled," O'Neal said. "And you know, they're going to get back. They're going to get back. They play well, they went through a lot, they put a lot of pressure on themselves. That's how they like it. And they will be back."
Not particularly original work by O'Neal, but it's good to see that he won't be in the tank for his former team. Sure, he might be pandering to public sentiment but it's definitely better than hearing him defend LeBron James,
Dwyane Wade
and company.
Best case scenario: O'Neal and fellow commentator Charles Barkley get into a mano-a-mano competition to see who can give the Heat a harder time. Both have shown the ability to be a bit merciless, and certainly that will appeal to the wide swath of NBA fans who enjoy watching the Heat struggle.
O'Neal's Boston
Celtics
were eliminated by the Heat in the second round of the Eastern Conference playoffs. O'Neal was limited by injuries and was only able to play 12 minutes total in the series, scoring two points and grabbing zero rebounds. The injuries and his age led him to
decide to retire in June
.