Los Angeles Lakers center Andrew Bynum has allegedly been caught parking in a handicapped spot. Posted by Ben Golliver.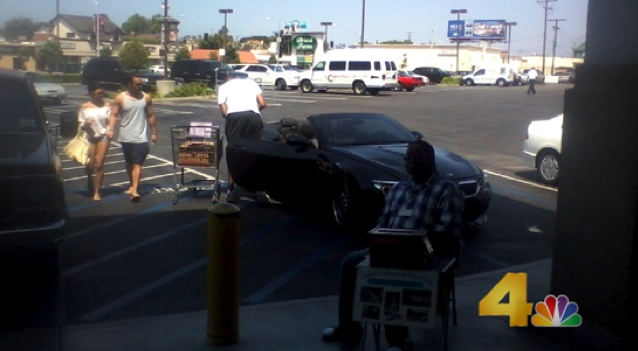 Surprise, surprise.
Who would have guessed that a big man best known for spearing smaller guys out of the air would have the audacity to illegally exploit one of the rare benefits afforded to our society's most vulnerable citizens? (Allegedly.)
Yes, that's correct. Los Angeles Lakers center Andrew Bynum, who
made headlines
this season when he knocked Minnesota
Timberwolves
forward
Michael Beasley
and Dallas
Mavericks
guard J.J. Barea to the floor with hard fouls, has reportedly been caught parking in a spot reserved for handicapped or disabled persons.
NBCLosAngeles.com reports
and displays photos allegedly showing Bynum parking illegally while shopping at a Bristol Farms Market in Playa del Rey, a beachside area of Los Angeles near the Lakers' practice facility in El Segundo.
The photos, provided exclusively to NBC4, were taken by an LA Parking Enforcement official at the upscale Bristol Farms Market in Playa del Rey. NBC4 questioned Andrew Bynum, 23, about the alleged incident as he was getting into his car recently. He slammed his car door and drove off without comment.

"It's a terrible image and perception when something like this happens," said Vito Scattaglia, DMV deputy chief, after NBC4 showed him the pictures.
The photos show Bynum loading groceries into a dark BMW convertible that is double-parked in a clearly marked handicapped area. Multiple available parking spots for non-disabled drivers and passengers are pictured in the near background, just yards away.
Shake. My. Head.
Top image via NBCLosAngeles.com.Hat tip: LakersNation.com.