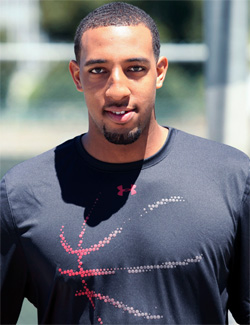 By Matt Moore


Derrick Williams
, like a lot of college kids, enjoyed being at college. It's a fun atmosphere, as a star athlete, you're treated as a demigod, there are lots of fun activities (and, you know, partying), and no real responsibilities (relative to the "real" world).
Williams elected to leave college as a sophomore to cash in on his draft value coming out of the NCAA tournament. Only problem, that cash is locked up in the lockout.
On Wednesday, after announcing his signing with Under Armour, Williams did the press circuit, and The Basketball Jones asked him about that decision to jump. Williams made it clear that if the NBA loses the entire year, he's going to be pretty upset at how things turned out. From TBJ:
"If they told me I was going to miss all 82 games next season I would have stayed in college and enjoyed myself and enjoyed all of my teammates and everybody else who is involved with Arizona. I definitely would have went back."
via
TBJ Q+A: Derrick Williams on Under Armour, the lockout and staying in school | Blog Archive | The Basketball Jones | Blogs | TheScore.com
.
You have to wonder how many draft picks feel this way. It's not as if they weren't aware of the lockout coming out. There's a reason so many player decided to return for this college season, knowing the lockout would affect things. But the way it's worked out, there's been so many negative signs, it's looking as if those players will lose a whole year of income
and
a year of campus hijinx.
Williams made the best decison he could at the time, but it's still frustrating for these players that the
one
year that's best for them to enter the draft, this whole disaster happens. Forces out of your control, and all that. Just another victim of a lockout that didn't need to happen the way it did.