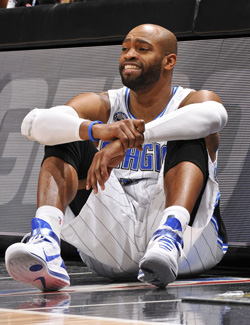 By Matt Moore


Vince Carter
is 34 years old. There's only so much time left in his NBA career. So to watch the end of it spent in a lockout has to be pretty frustrating. But Carter's definitely not through. Carter told the
Daytona Beach News-Journal
that he's got some time left in the NBA:
"You may not know where, but you have to be ready to play. I still want to play a couple more years," said Carter, who shows no interest of playing overseas during the lockout, as others have talked about. "I'd rather just wait and see what happens."
via
With future uncertain, Vince anxious for lockout to end - Columns
.
Carter's effectiveness has been slipping considerably over the past few years, though his decline has been exaggerated somewhat due to his unpopularity surrounding perceived minor injuries holding him out and his unceremonius exit from Toronto. He's going to receive a $4 million buyout from the
Suns
once the lockout ends. It's a good decision to stay at home instead of pursuing a job overseas, due to his injury situation. He needs to be in prime condition when the season resumes.
Carter's going to want to look for a contender, most likely, but it's hard to see most contenders looking to add him. Even if Carter is willing to take a reserve role, Carter still comes with ego and a very specific skill set which doesn't fit well to a certain type of role player. It'll be interesting to see who takes a shot on Carter in the twilight of his career.