Posted by Ben Golliver.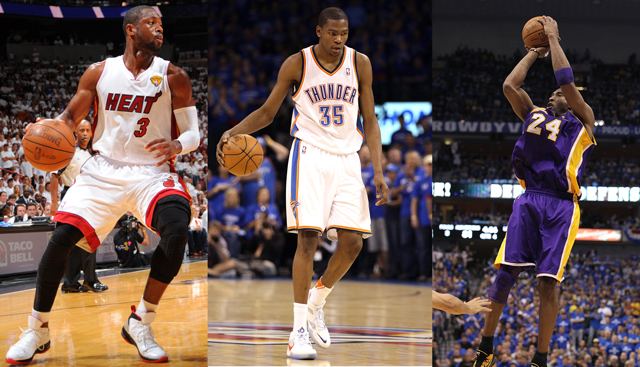 It's one thing to be great on the court. It's one thing to be famous. It's one thing to be marketable. It's one thing to be respected.
But how do we throw all those attributes together? How do we determine which of the NBA's brightest stars are the most well-rounded? How do we put our finger on which stars capture the imagination, drop jaws and tug on the heart strings?
It's an impossible task, but that didn't stop the Eye On Basketball staff from trying. Over the last week, we pinpointed five characteristics that combine to make NBA players likeable: "Ballin' Ability" (how good a guy is as a player), "Winning Attitude" (how dedicated he is to the game), "Talking Softly" (how he comes across in public comments), "Commerical Appeal" (how visible he is in advertisements) and "Public Works" (charitable contributions and other character-defining achievements).
Our panel of four experts ranked every member of the 2011 All-Star teams on a 1-5 scale in each of these five categories. We then added up all the scores to get a ranking on a 1 to 100 scale. The higher the number, the more likeable the player. Pretty simple stuff.
Without further ado, here are the CBSSports.com 2011 NBA All-Star likeability rankings, from worst (least likeable) to first (most likeable).
24. Joe Johnson, Atlanta Hawks: Johnson's unassuming personality and solid perimeter game don't stand much of a chance here due to his relatively invisible national profile and his team's lack of playoff success. Score: 44
23. Al Horford, Atlanta Hawks: Horford suffers from the same low-profile problem as Johnson but is perceived as more of a winner because he took home NCAA hardware at the University of Florida, and his game is predicated on doing whatever it takes to get the job done rather than jacking jumpers. Score: 48
22. Chris Bosh, Miami Heat: Bosh is intelligent, articulate and gentle off the court and a versatile talent on the court, so he should be pretty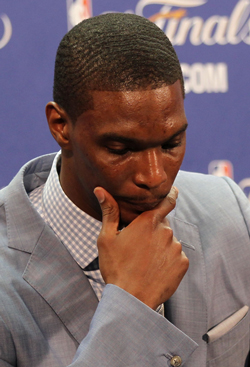 likeable, at least in theory. His goofiness -- the photo shoots, the secret wedding, the screaming at the preseason parade -- has become off-putting now that he's teamed up with LeBron James and Dwyane Wade. His status as the league's most obvious punch line hurts him here. A lot. Score: 54
T-20. Russell Westbrook, Oklahoma City Thunder: Still just a half-touch too far up the "might be crazy" scale to be totally likeable at this point in his career. Westbrook is still stuck in Kevin Durant's shadow, although he showed with his fearless play in the 2011 postseason that he might one day eclipse KD in terms of sheer star power. Could be a fast riser in future renditions of these rankings, especially if he can cut down his turnovers and shake a developing reputation as a bit of a late-game ball hog. Saying something interesting after a game once in a while wouldn't hurt either. Score: 55
T-20. Pau Gasol, Los Angeles Lakers: Much like the Lakers, Gasol took a step back in prominence this season when he didn't show up as expected -- and as needed -- in the postseason. His gangly frame isn't particularly marketable, at least not here in the United States, and while he is a true professional when it comes to the media, he's known first and foremost as Kobe Bryant's on-again, off-again punching bag. Score: 55
19. Rajon Rondo, Boston Celtics: More than anyone else on this list, Rondo genuinely doesn't care what you think about him. He can come across as curt and moody, and doesn't expend much energy playing the media game. His authenticity can't be questioned, but it does keep casual fans at arm's length. Score: 58
18. Manu Ginobili, San Antonio Spurs: An egoless star on an egoless team in an egoless organization in a relatively small market, Ginobili has never sought the bright lights. Even after all these years, the average fan doesn't have much of a connection with him. There's nothing not to like, but nothing that reaches out and grabs you either. Score: 59
17. Deron Williams, New Jersey Nets: Williams gets bonus points for his amazing annual dodgeball tournament and rose to a new level of renown this year thanks to a blockbuster trade and a trailblazing deal with Besiktas in Turkey. The rumored spats with Jerry Sloan that surfaced when the legendary Utah Jazz coach abruptly retired briefly painted a very unlikable picture, although that didn't seem to bother him too much. Score: 61
16. Paul Pierce, Boston Celtics: Beloved in Boston, Pierce's personal likeability suffers a bit nationally because he's almost always talked about as one of Boston's Big Three, with Kevin Garnett usually getting top billing. He's a bit past his prime, which surely costs him some spots on this list. Score: 62
15. Ray Allen, Boston Celtics: Allen is pretty much in the same boat as Pierce, although he's got an energetic mother (the ever-present Flo), a picture-perfect jump shot and an unforgettable silver screen performance (Jesus Shuttlesworth) to give him a bit of a boost. Score: 64
14. Kevin Love, Minnesota Timberwolves: Love is the anti-Rondo, fully embracing the media attention, putting his self-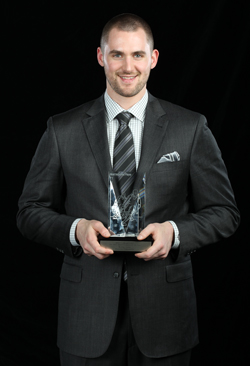 deprecating humor to full display whenever possible. He's blogged, starred in viral videos and, let's not forget, put up mammoth statistics through sheer hard work amidst a dysfunctional mess of a team. All while remaining sane. No easy task. Score: 65
T-12. Kevin Garnett, Boston Celtics: Thanks to his on-court bullying antics and incessant trash talk, Garnett is as polarizing as anyone in the league, save LeBron James. But his reputation as a winner was sealed by Boston's title, he's been a fixture on the national endorsement circuit for years and his overwhelming competitive desire helps cover up some of the ugliness. Score: 66
T-12. Amar'e Stoudemire, New York Knicks: Near the top of his game and playing in a major media market, Stoudemire keeps the dunks and quotes coming, so everyone stays happy. The fact that he abandoned Steve Nash immediately following a Western Conference Finals playoff run to take more money without catching any flak for it is a testament to how he's carved out a major place in the nation's heart in his own, quirky way. Score: 66
11. Carmelo Anthony, New York Knicks: Anthony's steady focus during a half-season-long free agency and trade whirlwind last year won him a lot of goodwill, as does the fact that he's put millions of dollars into both Syracuse University and Baltimore. Based on talent alone, Anthony should probably be higher on this list, but wife LaLa and his lack of playoff success hold him back. Score: 68
10. Blake Griffin, Los Angeles Clippers: Griffin is still enjoying the "new-car smell" phase of his NBA fame. His audacious take-offs, explosive leaping and vicious finishing are so unique for a player his size that nobody much cares that he didn't make the playoffs and still has a ways to go to fill out an all-around game. The centerpiece of All-Star Weekend in his very first visit, he's got endorsements by the boatload and is arguably on the verge of over-exposure. He's still a little stiff, but that seems to be fading. Once he gets a few playoff series wins under his belt, look for Griffin to be a perennial top-5 member on this list. Score: 71
9. Tim Duncan, San Antonio Spurs: Duncan has been so good for so long -- and won so much -- that the respect factor afforded him is significant enough to make up for a bland, sometimes robotic, personality. Duncan can be subtly hilarious and occasionally sharp-tongued with the media. He is also unfailingly classy. Score: 72
8. LeBron James, Miami Heat: He should be No. 1 on every NBA list ever made given his otherworldly talent and global-marketing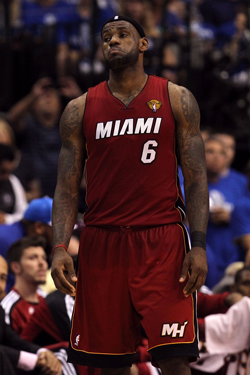 -machine status, but James drops hard in terms of likeability due to his late-game failures in the 2011 NBA Finals, his out-of-touch comments towards fans following the Heat's eventual loss to the Dallas Mavericks, the self-unaware "Decision" and his overall child-star cockiness/obliviousness. Even given all of that, no one would be surprised if winning a title vaulted him to the top of this list next year. His talent is that absurd. Score: 74
7. Derrick Rose, Chicago Bulls: You might have heard: Rose is humble. The 2011 MVP has so much going for him: He's won at an early age, he's winning for his hometown team, he's lived up to expectations, he's taken responsibility for losses and shared credit for victories, he's managed to be a scoring point guard without getting written off as "selfish," and he kept a safe distance from all the free agency politicking that soured a lot of fans on many top-name players last summer. He continues to battle his "shy" public nature, which is the only thing holding him back from much, much greater fame. Score: 79
6. Chris Paul, New Orleans Hornets: Paul checks off virtually every box on the likeability list. He's cutthroat on the court and cuddly off of it. He's raised loads of money for Hurricane Katrina relief. He's a devout man without being preachy. He comes across as a caring father and thoughtful citizen. He's -- so far -- steered clear of hijacking his franchise by demanding a trade or threatening to walk in free agency. The touching story of his love for his deceased grandfather has become an indelible part of his identity. And he is team-first, always. There's so much to like that you actually hope he finds a better situation, where he will be able to fill out his playoff reputation. Score: 81
5. Dirk Nowitzki, Dallas Mavericks: This is the top of the mountain for Nowitzki, both on and off the court. It simply doesn't get any better than captaining a balanced team through a marathon playoff run that ended with the demolition of the league's most hated team. The cherry on top is the fact that Nowitzki came through in the clutch time and again. He's put an ugly past relationship totally behind him, moving forward with a new fiancé. His personality with the media is easy-going and honest. He plays with a childish love of the game and hits shots that make you marvel. It's hard to imagine another seven-foot German man gaining this level of acceptance and respect in the United States. Ever. Also, he's squashed the "soft" label that haunted him for years. Score: 84
4. Dwight Howard, Orlando Magic: Howard has deftly positioned himself as the heir apparent to Shaquille O'Neal, one of the most likeable NBA stars in recent memory. His dominant two-way play serves as the basis for a superhero persona, and his active online presence and numerous endorsement deals make his zany personality inescapable. The fact that he hasn't committed to the Magic and could be headed for a free agency bonanza could cost him points down the road, but right now he's still the giant, lovable teddy bear who can swat shots back to half court. Score: 85
T-2. Dwyane Wade, Miami Heat: It was a shocking scene when Wade joined James in mocking Nowitzki during the Finals for being sick: A very flat note for someone who has historically been pitch perfect. Throughout his career, Wade has been a Teflon Don, particularly charmed as a player and as an endorser. With a title under his belt and a megawatt smile, Wade has displayed a good sense of humor for years as a pitchman and also been a staple on NBA Cares commercials. Both James and Bosh lost points last summer for their decision to team up in Miami, but Wade came off as a big winner, the cool older-brother figure who pulled off the recruiting haul of a lifetime. Score: 87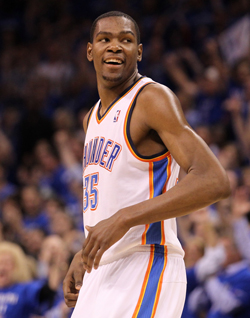 T-2. Kobe Bryant, Los Angeles Lakers: Colorado sure feels like a long, long time ago, doesn't it? Bryant has made the most of the second half of his NBA career, winning rings by the fistful and growing his international popularity immensely. He's played through pain, done things his way, taken a direct, often profane, tone with the media and become the closest thing to Jordan since Jordan. Age is slowly advancing, which has a way of humanizing people, and yet his ego and force of will push back equally hard, making it seem, at least for now, that his reign on top will last as long as he chooses. Right now, he's the NBA's most mythical figure. Score: 87
1. Kevin Durant, Oklahoma City Thunder: Surprised? You shouldn't be. It's virtually impossible to find fault with the NBA's scoring champ. Durant combines Rose's humble nature, Nowitzki's impossible scoring touch, Griffin's "new-car smell," Howard's technological accessibility and a Bryant-esque work ethic. He's polite, he's shown he has what it takes to win in the playoffs at a young age, he's popular on an international stage already and the best is yet to come. He's confident, but not cocky. He's a gunner, but he comes off as unselfish. He's team-first and loyal, much like Paul, and he's locked in long-term so there's no doubt or question about his future motives (at least not yet). Put it all together, and Durant is enjoying the ultimate honeymoon period with the NBA fans. We love potential, and Durant still has plenty of that. Also, he wears a backpack. Score: 88