Posted by Ben Golliver.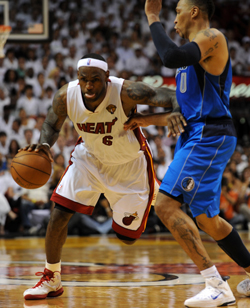 Besides the time he
dunked on a kid at a basketball camp
and the other time he
dunked off the backboard at a charity game
, it's been a very, very quiet summer for Miami
Heat
All-Star forward
LeBron James
. He attended
Chris Bosh
's
wedding in Miami
and made it to Las Vegas for
Chris Paul
's
bachelor's party
, but, all in all, he's kept a fairly low profile since the Heat lost to the Dallas
Mavericks
in the 2011 NBA Finals.
ESPN.com reports
that James isn't expected to make any big waves by declaring an interest in heading overseas to play professionally, as many of his fellow stars have done. The site quotes an unnamed agent who said that many stars will continue to pursue international opportunities if the lockout drags on but James isn't one of them.
This agent was so excited about the opportunities overseas that he said this: "If there's no agreement in place by September, all of my players will be playing overseas.''

Trust me, if that's true, Deron Williams' name won't be the only one creating a buzz overseas. "The players' preference is to be in training camp, playing in the NBA,'' the agent said. "But if the league puts them in the position where they have to go elsewhere to play, then they're going to pursue those opportunties.''

Dwyane Wade, Kevin Durant, Kobe Bryant and Dwight Howard are among the superstars who are reportedly willing to consider playing overseas. One superstar who, at least for now, is not looking into the playing elsewhere is LeBron James, according to sources.
There are plenty of reasons for James to take a pass on the overseas option. He has tons of money left on his current deal, which increases the risk factor for him should he suffer a catastrophic injury. He's raking in plenty of endorsement money regardless of whether the NBA misses a season, and it's unlikely there are many (any?) European or Chinese clubs with the necessary finances to make it worth his while.
On top of those monetary reasons, James has plenty of other available excuses. The Heat is the odds-on favorite to win the title for at least the next three years but is just one injury to him away from being a borderline lottery team. He's averaged more than 40 minutes per game in his eight NBA seasons and has played at least 11 playoff games in six straight years, so his body can use the recuperation time. He's one of the game's most recognizable stars, so security could pose an added concern for him compared even to other NBA All-Stars. He currently lives in Miami, where one imagines a multimillionaire has no problem finding plenty of fun things to do to occupy his time.
If those reasons aren't enough, consider the fact that James is a follower, not a trailblazer. If Wade were to go overseas, James would be chartering a G6 the next morning to tag along. But Wade is older and has a longer injury history, so the odds of him taking that path are pretty remote.
Here, the risks far outweigh the potential rewards. James is the rare NBA player who can be a global icon without needing any additional exposure.