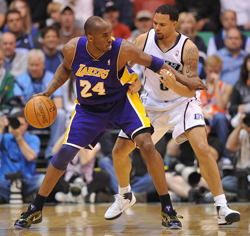 By Matt Moore


Whether you think
it's nothing but a bunch of lying liars lying or not
, the talk about NBA players heading oveseas to play won't be stopping any time soon. And lest you think that a match-fixing scandal that has frozen the assets of the Turkish team that recently signed
Deron Williams
would stop them in their pursuit of
Kobe Bryant
, think again. In fact, their coach says talks have already begun. From the Los Angeles Times:
Ataman said the team is trying to satisfy Bryant's salary demands so that he can join New Jersey Nets All-Star point guard Deron Williams on the team. Williams signed with Besiktas about a week ago.

"We made our offer to Kobe and now we are waiting for their comments about the situation," Ataman said. "But we didnt talk about details. I think they are thinking now about our offer, and I think in the beginning of August, the first week of August, our president [Yildirim Demiroren] will be in the United States for Deron Williams' press conference and I think that they will meet to sign in USA with Kobe."
via
Kobe Bryant: Kobe Bryant reportedly in talks with Turkish club - latimes.com
.
More specifically, Ataman states that they have been in contact with a sponsor to help cover Bryant's salary.
That was a major hangup
in a Thursday afternoon report. Bryant has a sponsorship with Turkish Airlines, but they have not been discussed as a possible sponsor for a Besiktas contract.
It's surprising that Besiktas continues to pursue Bryant despite the match-fixing issue and the fact that Bryant has yet to publicly speak on the supposed talks, even through a representative. Until he does, people will still be incredibly suspicious about the idea of Bryant spending next fall in Istanbul.
Laker fans have to be nervous about a potential Turkish escapade for the five-time champion. Bryant's finally had a long offseason to recover from his myriad injuries he's played through over the past couple of seasons. Playing abroad only puts more miles on tires that have seen better days.