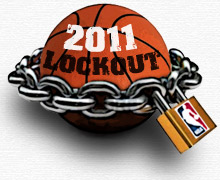 Posted by Royce Young
The NBA sent out a press release late Friday that included the 2010-11 season audit of all Basketball Related Income (BRI) and player compensation. Results: Holy mother of money.
The league says:
BRI increased by 4.8 percent from $3.643 billion in 2009-10 to $3.817 billion in 2010-11.
Total player compensation also increased by 4.8 percent from $2.076 billion in 2009-10 to $2.176 billion in 2010-11. This marks the sixth consecutive season that player compensation increased under the expired CBA.
Total player compensation equaled 57 percent of BRI.
The average player salary for the 2010-11 season was $5.15 million.
Over the six-year term of the expired CBA, the average player salary increased by a total of 16 percent.
What's this mean? Why did the league do this? The NBA wants you to see that while yeah, the league is making a crapton of money the system clearly needs fixing because player salaries have also gone way up. The NBA might be raking in some $3.8 billion, but if it lost money last season, then what does that say about the system?
That's the whole idea. But to fans and others, all they see is a dollar sign and the word "billion" behind it. It's also hard to ignore that revenues increased by 4.8 percent. The question the players have here, as always, is, "How in the world did your franchise lose money then? If you're paying us too much, run a better business!" That's essentially true in most ways and kind of hard to argue with. If I've got a small business and I'm operating with a $200,000 a year revenue stream but I hired all my employees and signed them to a bunch of five-year, $75,000 a year deals, I'd be kind of a moron, right?
Still, that doesn't tell the whole story. Player salaries have indeed skyrocketed up the ladder and while revenues are up, they aren't necessarily up enough. At least that's what the league contends.
Hench our little impasse here.
Regardless, owners clearly want to tug down that $5.15 million average salary to somewhere in the $3 million territory and players have already agreed to come down on the 57 percent of BRI figure. But even still, it's hard to look at this release -- which the league snuck out at 5 p.m. on a Friday -- and not see that revenues had risen for another consecutive year.
Don't we all just feel
so
bad for the league making $3.8 billion and the players that average $5.15 million a year? I know I do.