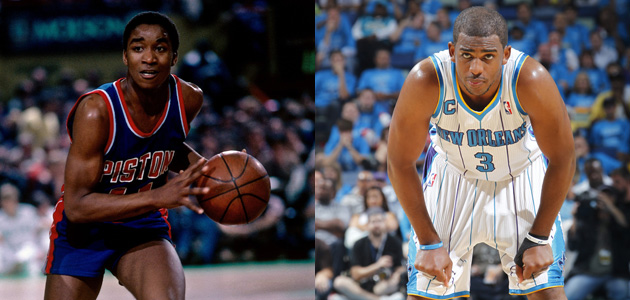 By Matt Moore


We live in an immediate society. The internet, social media, the ever-accelerating news cycle, everything means that the next 30 seconds is 10 times more important than the last 30 seconds regardless of what actually happened in the past 30 seconds. As a result, we lose perspective on what stands truly relevant from the past. The NBA is no exception. So in an attempt to merge the two worlds (since, as a blog, we love/hate/want to be BFFs within the next 30 seconds), we'll be bringing you a look at players past and present, in relation to one another.
We begin with Isiah Thomas and
Chris Paul
.
Before Isiah Thomas' name was synonymous with the failure of the CBA (that's the Continental Basketball Association in this case, though you could argue that some of Thomas' later contracts offered might suggest he had something to do with this lockout), sexual harassment and the utter ruin of the New York
Knicks
as a professional basketball franchise, he was an incredible basketball player. He was an elite point guard from the moment he stepped on the floor at St. Joseph High School. He won a NCAA Championship at Indiana under Bob Knight (take a second and think about those two personalities sharing a floor). In his sophomore year, Thomas averaged 16 points and 5.8 assists while shooting 55 percent from the field.
So that's a pretty good start.
You know how
Blake Griffin
made the All-Star team as a rookie, and it was a really big deal this year. Thomas made it in '82 when it wasn't quite so surprising, but Thomas also started, scoring 12 points with 4 assist and 3 steals. From there on, Thomas was an All-Star each year until his retirement in '93. He won the title in 1990 and 1991 with the "Bad Boys," even downing Michael Jordan's
Bulls
in the Conference Finals. But those are just figures. To weigh Thomas' impact, much like to weigh Chris Paul's, you have to actually go back and watch.
But even the highlight clips don't really show the kind of control Thomas had on the game. At only 6-foot-1 (that's right, the same size I have mocked
Kemba Walker
for being continually ... every time I read that height I get queasy to a ridiculous degree), Thomas was in such firm athletic control of his opponents, he was always one step in front of them, always in charge. Players had a remarkably difficult time forcing Thomas into doing anything he didn't want to do. His control and precision were offset by his scoring range, which was pretty much omnipresent. It was this control that allowed him to make defenders seem as if they were just trying to keep up with big brother.
Paul, on the other hand, never won a championship at Wake Forest, though he was just as highly lauded for his intensity and performance. In Paul's first six seasons, he's established himself as the best point guard in the league (
Derrick Rose
fans, this is qualifying point guards under the traditional role; Derrick Rose
isn't a point guard
, he's Derrick Rose, which is more than a point guard). Paul's ability to make his teammates better is arguably higher than that of Thomas. The comparisons between the two relative to Paul's stage of his career are eerily similar.
From
Basketball-Reference.com
(click to enlarge):



Thomas scored more, but needed more shots. He had more assists, but had a higher usage. Essentially, were Paul to be as assertive with the ball as Thomas was at this point, his numbers would be even or better than Thomas, more than likely. But of course, injuries play a part. Paul has not only missed significant time with injuries since the infamous 2008 series with the
Spurs
that very nearly landed Paul in his first Western Conference Finals, but has
admitted that he's holding back
.
In terms of style, Paul is much more beatific with his approach. His passes are delicate floaters, while Thomas' were primarily either lasers or high arcing bombs. Paul's 3-pointer is a dagger, while Thomas was more of a hoist. Thomas preferred the mid-range jumper while Paul's short-elbow floater is stunning in its lethality, when he turns to it. But there are vital comparisons. Both Paul and Thomas possess the intense desire to win at all costs that helped Thomas win the title. Of all the new breed of superstars, particularly those in the clique of
LeBron James
,
Dwyane Wade
,
Chris Bosh
,
Carmelo Anthony
, etc., Paul's drive to win is perhaps fiercest. It was Thomas' intensity, or arrogance, depending on which side of the aisle you're on, that led to his feuds with various stars of his era. He and Paul share that, a willingness to tussle with nearly anyone. It is a relentless gear that never allows them to back down from anyone, while always then turning a smile to the camera. But Thomas' battles were almost personal, more vicious. While Thomas has, despite his numerous, nearly incalculable public relations disasters, been well-spirited toward his former rivals in retirement, at the time, it was Thomas against the world.
Paul's approach has been different. He's much more calculating in his approach. He's willing to befriend anyone that will help him, and makes nearly no enemies. Paul is beloved by everyone. He's a darling of the league. A brilliant player who serves as a tremendous member of his community, an All-Star who pals around with the two-time MVP. He's everything to everyone, where Thomas was popular but also controversial.
In the end, Thomas gets the edge on Paul thanks to, you know, the championships. But Thomas won those when he was 28-29, two to three years older than Paul. CP3 has time. He has the mindset, the skills, and the leadership. He just needs the opportunity. As he showed us in the playoffs this year, Paul just needs a team good enough to support him and allow him to unleash that wolf in sheep's clothing he's often portrayed as (HT: Free Darko).