Posted by Ben Golliver.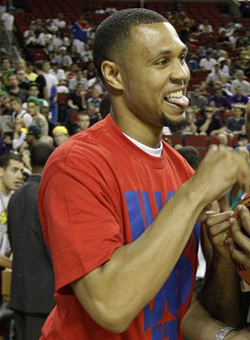 SEATTLE -- Portland
Trail Blazers
All-Star guard
Brandon Roy
was listed Saturday as the headliner in the
H206 charity game
at KeyArena, but the only time he spent on the court was to
don a pointy hat
-- it was his 27th birthday -- and to proudly hold up an oversized novelty check.
For fans and observers, seeing Roy in street clothes has become a familiar sight. Roy, the University of Washington product, played just 47 games during the 2010-2011 season, sitting out a portion of it to assess the options on his surgically repaired knees before undergoing an arthroscopic surgery and PRP injection on both of his knees in January.
It wasn't an injury Saturday that sidelined Roy, though. It was simply the threat of injury.
"I'm disappointed [that I didn't get to play]," Roy said after the exhibition, in which a team comprised of NBA players from Seattle soundly defeated a team representing the rest of the NBA. "But at the same time I knew I wasn't going to get an 'OK' to play. It's kind of an 'at your own risk' thing. My situation was different, especially coming off of the knee injury from last year. Even though I wanted to play, I just had to make the smart decision."
Roy, a native of Seattle, brought his family to the event, sitting on the home team's bench while his wife and children sat courtside. The exhibition was played in front of thousands of vocal fans, many of whom wore the jerseys of the former Seattle SuperSonics. With the help of his son and daughter, Roy presented the oversized check to A Plus Youth Program, an organization that focuses on developing basketball and academic skills among area children. After the game, Philadelphia
76ers
big man
Spencer Hawes
led a group chant of "Come Home, Sonics."
"I think it was great for the city," Roy said. "I think it was fun to sit down on the bench again, hearing the fans yell and scream. I remember my first couple of years here,
Ray Allen
made shots, it was really loud here. I miss the Sonics, I know the fans do, we all want to see a team back here."
Just as fans want to see professional basketball back in Seattle, they want to see Roy back playing at his All-Star level. He flashed streaks of brilliance during a first-round playoff series loss to the Dallas
Mavericks
, including a dramatic come-from-behind victory in Game 4, in which he scored 24 points. But those exhilarating highs were met with lots of painful lows. Hampered by the knee injuries, Roy lost his starting spot and wound up playing a career-low in minutes. His 12.2 points, 2.6 rebounds and 2.7 assists were all well off his career numbers.
It's unclear whether Roy will be able to fully return to form, but he said Saturday that his offseason workout routine has progressed without a setback.
"I'm doing good, I'm doing great," Roy said. "Working out, keeping my weight down. And starting to play a little basketball this week. Enjoying the summer, really trying to take my time and keep improving. I'm healthy. I'm in a position where I'm not battling any soreness or anything, so I feel like I can start improving, getting better with my game. I'm excited."
Roy said he is lifting weights, getting shots up and playing in some light games, with plans to increase that workload like usual as the summer progresses.
"I'll start turning it up more, playing more competitively, as we get into August," Roy said. "Really no room for it now. Really just trying to fine-tune some things and just get better. I'm excited that I'm not in any pain and I can just play and not have any pressure in having to deal with the knees, just go out there and hoop."
He noted that his workouts are taking place in Seattle rather than Portland because of the ongoing NBA lockout, which bans players from team facilities.
"I have gyms here that I go to," he said. "In Portland, I go into the facility, but we can't do that now, so I'm spending most of my time up here right now."
While fans and analysts have speculated that a shortened schedule could play to Roy's advantage by limiting the wear and tear on his knees, Roy said his preference is that the season starts on time.
"I've been watching the football lockout more than anything," Roy said. "Now that they are kind of wrapping up, we'll see where ours is at. Hopefully there's no [work stoppage], guys want to play basketball, guys want to get back out on the court. Personally I can't wait to get back out there and play again. Hopefully [the] lockout doesn't go until we miss any games or any preseason, hopefully we can get back on track. I thought the season ended really well this year with what Dallas did and [the league is] in a good position. So hopefully we don't have to miss any games."
But will that happen?
"Honestly, I have no idea," Roy said.