Posted by Ben Golliver.
It's apparently "tattoo day" here at Eye On Basketball. If you want to read a thoughtful exploration of what getting inked means for an NBA superstar like Oklahoma City
Thunder
forward
Kevin Durant
,
click here
. If you simply want to see a ridiculous tattoo of Miami
Heat
forward
LeBron James
' face on a fan's leg, keep reading.
A man
whose Twitter account
identifies him as Nathan Blackhall of South Florida posted
the following picture on Twitpic
. It shows the back of one of his legs with a giant depiction of a smug looking James, complete with oversized headband and receding hairline.
Blackhall sent the image to James, who
shared it
with his 2.2 million followers. James also added, "Oh damn! That's how u feel. I appreciate the love."
Explaining his decision to get James' mug on his leg, Blackhall noted on Twitter that James is "my [favorite] player and [basketball] idol" and that the tattoo is "a symbol of one of my favorite stars and future Hall of Famer."
I'm all for self-expression, but this is a little weird.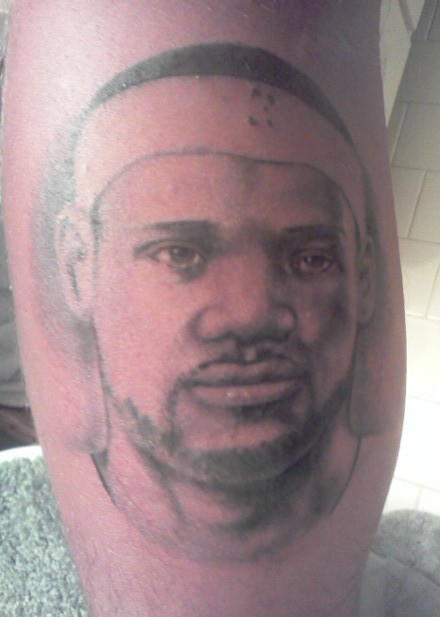 Hat tip: BlackSportsOnline.com.