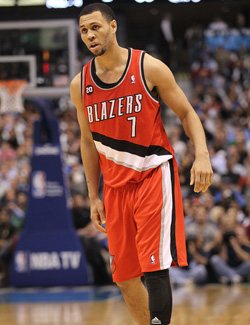 By Matt Moore
For more on Brandon Roy, check out our interview with him from this weekend's event in Seattle.


Brandon Roy is injured. Despite
telling CBSSports.com
over the weekend that he's finally pain free, he's always going to be "injured" to a degree because of the condition of his knees. He's gone through physical and emotional hell over the last year in dealing with the realities of his knees.
One thing that has not suffered, though, is his confidence. Roy's not only still confident that he can be the Roy of old, he's calling out (and then saying he's not calling out) players that are able to stay on the court. From the
Oregonian
:
"I can still create off the dribble," Roy warned. "I still think you are crazy to put a guy who can't guard on me. You'll get exposed all night. So I don't want to get away from that.

"But I have to get in a position again where the team believes enough in me to make me a threat," Roy said. "I don't have to be The Guy, but just a focal point again, to where -- not to knock a player -- but if Jason Terry is guarding me, then my team can believe I can expose that matchup. That's part of getting my confidence back to where I can give confidence back to Coach and the organization."
via
No promises, says Brandon Roy, but doubt him at your own risk | OregonLive.com
.
Roy likely chose to single out Terry because of the success that he had against the
Mavericks
... in one game. Roy's comeback game in Portland seemed like a miracle moment, a reckoning of all those who doubted that Roy could come back. Then Roy went back to being the 9.3 points per game scorer he was during that playoff series before the Mavericks booted the Blazers back home. Terry, it should be noted, went on to guard
LeBron James
and do it pretty effectively in the Finals.
Roy's not trying to be overly antagonistic; he really does think he's that much better than Terry. But he could learn a thing or two from JET. Terry manages to understand his role while also playing to his strengths. He recognizes his place on the team but contributes in a huge way and sitll gets headlines.
Maybe if Roy had learned to trust and rely on
LaMarcus Aldridge
earlier in his career, he wouldn't have had to carry the load as much. But what-ifs are no use. Roy is who he is, and that won't change, physically or mentally. This will be his approach.
No matter what, he'll go down swinging.