Posted by Ben Golliver.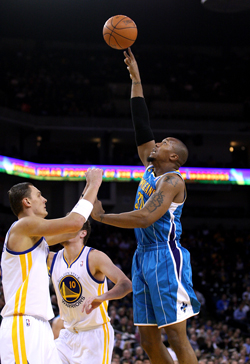 Back in late March
, New Orleans
Hornets
forward
David West
tore the ACL in his left knee, a devastating injury at a tough time, as it happened just before the team's playoff push and months before he was set to hit the open market as a free agent.
Shortly before the lockout was imposed, West decided to
opt out of the final year of his contract
-- he would have been paid $7.53 million -- to become a free agent despite the injury concern.
On Monday,
NBA.com reported
that West is right on schedule in his rehabilitation.
Two to three times a day, five or six days a week, West is at the Athletic Performance Center in Raleigh, making rapid progress in his return. After his last visit two weeks ago to New York to see Dr. David Altchek, who performed the surgery, West's prognosis is now that he'd be ready for the start of the 2011-12 season -- if it starts on time.


"The way I'm looking at it, by October, I should be fully healthy," West said Monday morning. "When I go see Dr. Altchek in October, he should be giving me clearance to go out there and do my thing."
ACL tears generally take from six months to a year to rehabilitate from, so an October return date would put West on the low end of that range, excellent news given the financial stakes that are involved. Depending on how long the NBA lockout drags on, it's certainly possible West could be cleared to play by doctors before he is legally allowed to negotiate his next contract.
NBA.com reports that West, 30, is approaching his free agency -- whenever it might take place -- with an open mind.
"I talked to my agent, and my whole thing is, I just want to see what's out there," West said. "I'm not saying New Orleans isn't a possibility. I want to see what's out there. and I want an opportunity to win. I'll be 31 at the end of the summer and no matter how great I feel physically and mentally, every year you don't win is a wasted year, a blown year, an opportunity you'll never get back. I don't want any more of those years. I've played eight years. And I want the next three or four years to be different."
This contract certainly represents West's last big payday. And, frankly, he's got the Hornets over a barrel. If New Orleans doesn't commit to paying whatever it takes to re-sign him, the organization sends a message to franchise point guard
Chris Paul
that it's not serious about winning. West and his agent surely know that, and it's excellent leverage as he weighs his options as one of the top free agents of this period.
There's no compelling reason for West, who put up 18.9 points and 7.6 rebounds last year, to compromise financially on this deal. If he's healthy, he should expect long-term, big-dollar offers from multiple teams with playoff potential. The biggest variable was his health, but that looks like less of an influencer with each passing month.