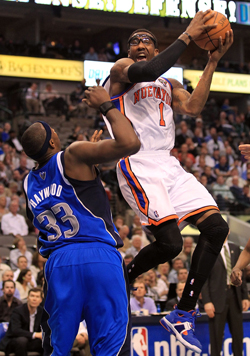 Posted by Royce Young
Will he, won't he? Will he stay or will he go? The new Melodrama is
Amar'e Stoudemire
's potential European vacation. One day, he says no chance. The next, he says he's interested and might even play in Israel.
And as you might imagine, teams are definitely giving him a call.
Via ESPN New York
, Stoudemire is getting offers and is at least giving the courtesy of weighing them.
"All the clubs have called the office inquiring about me," Stoudemire said. "Teams from Israel, China, Turkey, Spain. A lot of countries have been calling."

"The chances would be high" of playing elsewhere in a lockout, Stoudemire said. "They'd definitely be high. I just want to make sure I'm healthy and totally 100 percent before I make that type of commitment. As of right now, we're not entertaining offers. I'm still trying to get (my back) right."
That's a major change in what Amar'e tweeted earlier in July. He said then, "Europe teams are calling, I think I'm going 2 stay here in the states. My loyalty is with the State of New York an the NYK's. Who's with me?" He then backed it up again on SportsCenter in an interview saying he was planning on just resting and staying in New York.
But speaking from his home in Hollywood, he said he's still considering going overseas. His first order of business though is to get fully healthy and recover from a nagging back issue that sidelined him in the postseason. Before he can play anywhere, he has to be healthy. And you know the Knicks are going to be pretty anxious if Stoudemire goes anywhere, especially with his injury history.
My opinion? Stoudemire's just kind of talking. He's getting offers so naturally he's listening. He probably has no plans of going anywhere, but is at least going to hear everything out so he keeps his options open in case the lockout extends. No reason to just rule everything out right now.
But I can definitely tell you, I'm not looking forward to daily Amar'e updates about his potential Eurotrip. It's August. The drama's supposed to be over.