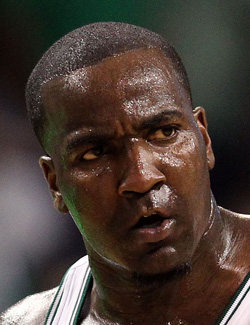 By Matt Moore
The Boston
Celtics
' success runs on chemistry. Versus the
Heat
's model of running on athleticism and swagger, or the
Lakers
' model of running on confidence and length, the Celtics found almost immediately after
Ray Allen
and
Kevin Garnett
arrived that they were best driven by a sense of united purpose. It helped build a family atmosphere in Boston and a closeness with the players. They weren't just teammates, they were brothers.
You know, until Danny Ainge ditched
Kendrick Perkins
for a forward who doesn't rebound and
Nenad Krstic
who is coming to a European team near you. That didn't so much preach a sense of family to the players. And as a result, the team reacted in a devastated manner when Perkins was sent to Oklahoma City. It visibly and deeply affected them, and to assert that it was a distraction for the rest of the season is not out of line. So much so that
Rajon Rondo
, in an interview with Yahoo! Sports, claims that it affected the Celtics too much.
Rondo refused to use injuries as an excuse for losing in the second round of the playoffs to the Miami Heat. But he also believes the trade of Perkins, his closest friend on the team, affected the Celtics "more than it should have."

"It wasn't like the man passed away or something," Rondo said. "I think we put too much emphasis on it. It's a business. He got traded. He's very happy where he's at. We still talk and I'm always going to have his back. It shouldn't have affected us the way it affected us."
via
Celtics' roster could get new look - NBA - Yahoo! Sports
.
While I'm sure Celtics fans would rather the team have reached this conclusion before they exploded in a blaze of sadness, in reality, Perkins wasn't what did them in against the Heat. James and Wade dropping pull-up 3-pointers wouldn't have been stopped by Perkins. They ran out of steam against a very good team with a lot of talent. But maybe that was the real cost of the Perkins trade. The Celtics needed energy, and the trade emotionally exhausted them.
It's good that Rondo can admit that they should have moved on, but for a kid that comes off as cynical to begin with, you have to wonder just how much further down the rabbit hole this trade has sent Rondo.