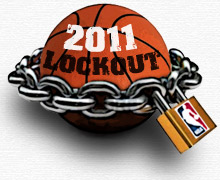 By Matt Moore
There have been "staff meetings" between representatives of the NBPA and the NBA owners in the past two weeks. Naturally, no substantive progress has been met, but hey, it's something. Now comes word that next week may mark an actualy, honest to God meeting between relevant personnel. From
Sports Illustrated
:
On Tuesday, Tom Ziller of SB Nation reported the NBA players' union and league officials were planning the first official post-lockout collective bargaining talks for some time in the first two weeks of August. That meeting will take place next week, barring some unforeseen scheduling issue, according to two sources familiar with the matter. It could take place as early as Monday, depending on how the schedules of a few key figures shake out, according to one of the sources.
via
The Point Forward » Posts NBA owners, players likely to meet next week «
.
This isn't a significant move. This isn't going to usher in some sort of sudden agreement. No breakthrough will be made. But it's a start. It's getting both parties in the same room, at the table, talking. And that's the only way we're going to get any sort of momentum, is with constant conversations that lead to a concession which leads to the other side offering their own concession and back and forth until a breakthrough is made. That's the only way we're going to get a deal before the start of the season, before Christmas, before we lose the entire year.
Expect to hear the same doom and gloom out of this meeting as all the rest. The owners aren't going to move off the hard cap, or drastic salary reductions, the players aren't going to suddenly concede everything they've drawn a line against. But the fact remains, this is the only way to a solution and to an end to the lockout, by getting both sides in a room with some coffee and having conversations about what and why and how.
It's nothing big. But it's a start.