Posted by Ben Golliver.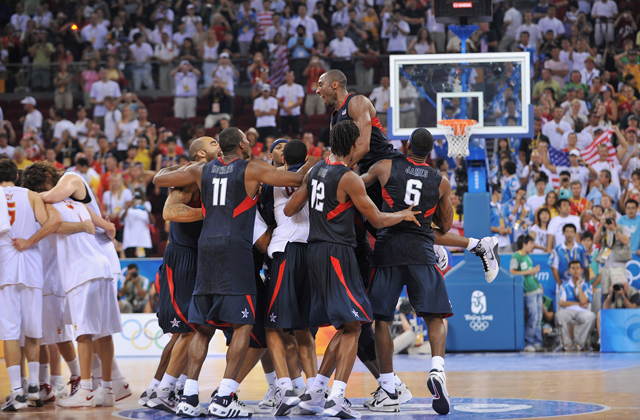 A dozen of America's top athletes leaping for joy after securing an Olympics gold medal while the foreign opponent huddles together with heasd bowed consoling themselves. You don't have to sport a tattoo of the American flag on your bicep to get a rise out of that scene.
Unfortunately, the NBA lockout hangs over all of basketball these days. And
Yahoo! Sports reports
that if the league cancels the entire 2011-2012 season it could jeopardize NBA player participation in the 2012 Summer Olympics. In other words, the scene pictured above from Beijing in 2008 might not be repeated in London.
In the doomsday scenario, where labor strife causes the cancellation of the 2011-12 NBA season, and the work stoppage drags into June and then July, there's little, if no chance, the great American players could play in the Olympics. Team USA is too tied to the NBA – too much of a David Stern production – for the players to break ranks and play. In the post 9-11 world, that's a tricky subject PR-wise for the players, but several union, USA Basketball and agent sources believe this worst-case labor scenario would cost Team USA its NBA stars.


As the managing director of USA Basketball, Jerry Colangelo answers to Stern, and the league – along with its ATM machine, Nike – has immense impact on the coaching staff and roster. How could the NBA allow its coaches – Team USA assistants Nate McMillan and Mike D'Antoni – to coach NBA players during a lockout? Still, that's the worst-case scenario, but it's one that USA Basketball will have to consider should the labor dispute push deep into the NBA season. In this instance, Team USA would have to field a team of American players who've built careers overseas, as well as D-League players, and perhaps a superior college superstar or two.
That would obviously put the USA at a serious disadvantage, especially because foreign-born NBA players would almost certainly compete in the Olympics, lockout or not. Teams like Spain, France and Argentina, to name three, could put more raw talent on the court than a mish-mashed USA roster. For perhaps the first time ever, USA would be an unquestioned underdog entering the tournament. That would be a terrible nightmare.
Let's just not think about it. Assuming the lockout is resolved and NBA players are willing and able to compete for their country, here are the 12 names and seven potential alternates for the the roster.
Returning members from 2008: Carmelo Anthony, Chris Bosh, Kobe Bryant, Dwight Howard, LeBron James, Chris Paul, Dwyane Wade, Deron Williams
New Members: Kevin Durant, Blake Griffin, Derrick Rose, Russell Westbrook
Potential Alternates: LaMarcus Aldridge, Tyson Chandler, Stephen Curry, Rudy Gay, Eric Gordon, Kevin Love, Rajon Rondo
The USA has tended to play versatile, small ball line-ups in recent international competitions. It's unlikely they would add multiple new big men unless one of the 2008 team members decided not to come back. When in doubt, the mantra seems to be, add shooting, which could favor younger guards like Curry and Gordon, who both played on the 2010 World Championships team.