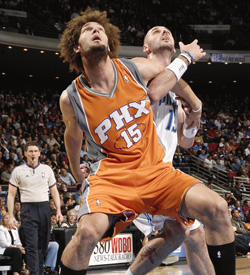 By Matt Moore
It's not unusual for NBA players to dislike one another. While it's a fraternity of sorts and in general, everyone gets along fine, it's like anything else in life. Some personalities just don't fit well together. It's more rare to hear about a problem between teammates, though. But apparently
Marcin Gortat
and
Robin Lopez
got off to a bad start when Gortat arrived in Phoenix, and things have never improved. From SBNation Arizona:
Marcin said that on his first day in Phoenix he asked Robin if practice started on the court or with a video session. Robin told Marcin that he didn't know so Gortat went to the gym while Lopez went to watch video. According to Gortat, a coach came to get him and asked why he was late and Marcin said that he had asked Robin and was told he didn't know where practice was starting. The coach said everyone knew where they were supposed to be. Marcin took that as a sign of where things stood between himself and Lopez.
via
Marcin Gortat's Polish Tour Includes Dogging Robin Lopez And Bad Tennis - Desert Dirt - SB Nation Arizona
.
Gortat went on to talk about how Lopez did not seize the opportunity afforded to him by the departure of
Amar'e Stoudemire
to solidify himself as the
Suns
' big man. Ouch.
Gortat backed up his talk with Phoenix last year, averaging 15.8 points and 11.3 rebounds per 36 minutes. Lopez' scoring and rebounding were lower per 36, and he lost the faith of the coaching staff after returning from injury. Whenever basketball is to be played again and moves are available, don't be surprised to see Lopez shopped, as Alvin Gentry
has expressed significant frustration with him recently
.
Lopez may simply have been poorly suited for the Suns' up and down game, as his raw tangibles seem to still hold upside. It's a buyers market for centers in this league, so a move might be the best for all parties.
Certainly Marcin Gortat, apparently.